Why buying or owning a home with a mortgage is going to be painful
Jeremy Hunt, the fourth Chancellor in less than a year, will unveil his fiscal plan in two weeks. Regardless of how it is received, interest rates will immediately rise. If Truss is then ousted as Prime Minister, we will be looking at a fifth Chancellor before Christmas and yet more mayhem.
However you cut it up, uncertainty, inflation, war and political instability are always bad for markets, and that includes the housing market.
Each year around 1.2 million homes complete, with a third of these being sold to first-time buyers. Covid and the third last Chancellor Rishi Sunak, with his giveaway SDLT scheme, distorted these completion numbers a little, but each year 400,000 plus homes sell to new buyers.
The Bank of England base rate is 2.25%, and first-time buyers can get a mortgage at 6.0% fixed for two years, but early in November the base rate will go up 100 points, or perhaps 150 points, to 3.25% or 3.75%.
We know this as the Governor of the Bank of England Andrew Bailey has already flagged this, saying: "As things stand today, my guess is that inflationary pressures will require a stronger response than perhaps we thought in August."
This would increase to a two-year fixed rate of 7.25% to 7.75%, which would lock out potentially 350,000 plus buyers from the housing market. This would decimate the new home builders, and the residential marketplace as first-time buyers underpin the chains when second steppers look to move.
For the seven million people who already have a mortgage, or specifically the 100,000 plus who each month may be coming out of a fixed rate mortgage deal that was under 2%, the new fixed rate deals at 10%, which is five times higher, will be a huge wake-up call.
Having been an agent from the mid-1980s I have seen many boom and bust housing cycles, usually sparked by Chancellors tinkering with taxation ploys around housing, from Lawson in 1988 through to the folly of Rishi Sunak's giveaways.
In my view, having marketed over 18,000 properties in 30 years, the nation sits on its hands when it has no cash in its pocket, and if your mortgage repayments increase by £600 a month, the last thing you think about is buying another home…you just hunker down.
The knock-on effect is obvious too. In the lettings sector, tenants will be paying higher rents, as landlords hit by increased financing costs pass these costs on. And with many landlords exiting the market, the PRS will be squeezed with a supply problem further compounding a rise in rents.
A lot of it hinges on the fortunes of Liz Truss and the next fortnight. A coup seems most likely, but even if she stays the money markets are going to react negatively to her new austerity Chancellor.
---
Fine & Country expands global marketing presence
Premium estate agency, Fine & Country has partnered with ListGlobally to feature all of their UK property listings on 106 international portals worldwide. According to the brand's Chief Marketing Officer, Emilie Despois, the partnership will support the brand's international growth and marketing strategy, while increasing the UK network's exposure to an international audience.
"From October 2022 our agents will have access to ListGlobally's management system allowing them to feed their UK property listings through to a network of 106 international portals, which will expose their properties to approximately 295 million buyers across 54 countries. To ensure that as many people as possible can read the property descriptions, the information will be automatically translated into the appropriate language for the country, with the system currently supporting over 25 languages. This will provide massive exposure to listings, as well as the brand, on a worldwide level," says Despois.
The UK property market has always attracted the interest of international buyers. An analysis from the Centre for Public Data showed a steady increase in the number of overseas buyers over the past 10 years, with 250,000 residential properties in England and Wales registered to individuals based overseas, which amounts to approximately one percent of the total housing stock. This is compared to less than 88,000 homes in 2010.
"Fine & Country already has an international presence with plans to continue global growth. We recently launched our new global website, improving customers' experience, website performance and brand exposure around the globe. We are working on further brand exposure through international marketing, which will open further opportunities for our UK based network, while paving the way for expansion and building brand recognition in countries we currently don't yet have an office in," Despois concludes.
---
Jason Tebb's OnTheMarket powers forward as Liz Truss flounders
Prime minister Liz Truss, who may not be in position by the end of the week is a perfect example of how not to lead from the front, and how adoption of the wrong policies and strategies can cause widescale havoc in a matter of weeks.
In contrast Jason Tebb CEO of OnTheMarket, (who for clarity is not one of my clients in my day job as CEO of Proptech-PR a consultancy for Proptech founders), shines out as a beacon of leadership, listening and brilliance, a role model for others in the industry.
OntheMarket, for those who can not remember was not in a great place when Jason Tebb was entrusted with dealing with its problems and setting it on a different course. Member agents had become alienated and felt dispossessed, a similar theme that Liz Truss is having to deal with.
But unlike Liz Truss, possibly hiding under her desk, well she did swerve most of Prime Ministers Question Time, Jason Tebb, from day one had an open door policy, which with his frequent meetings with agent members showed not only did he want to engage, he was listening and responding to what he heard.
This openness and positivity in the realm of property portals where there has been much turbulence with action groups actively campaigning against some brands, is now bearing fruit as a number of OTM's original phalanx of 'founder' agency partners who signed up five years ago, are continuing with OTM, a huge sign that they are happy with how things are going.
As Jason Tebb commented, 'It is a great message for us … These commitments show we are not just a challenger brand, we are a business of scale.'
The other big thing that Jason Tebb has and Liz Truss lacks is a sound strategy, in the time that Jason has been at the helm he has skilfully positioned the OTM brand as a property portal fit for the new generation of tech-savvy buyers and renters, from the recent adoption of Whatsapp as a feature, to the much larger architecture pieces of incorporating prime pieces of Teclet which was acquired by OTM.
Jason's vision, and it is my thoughts not his, is that a portal should not just be a digital signboard advertising inventory, where buyers and tenants then jump off and go to the agents. Instead OTM is providing digital hand tools and solutions to gently help agents modernise and streamline their businesses, a helping hand that drives profitability.
On top of this Jason and his team have been astute enough to tie up with some of the largest and best providers in the UK real estate space, think Matt Gilpin's Sprift (disclosure Sprift is one of Proptech-PR's clients) for example. OTM has given its members access to a definitive provider of the top strata of property intelligence, just what modern agents need to power their businesses.
Whilst I am not thinking that Jason Tebb should be our next Prime Minister, I do think that OTM though being the smallest of the big three UK portals, has a big future as it is in the hands of someone who has an agent's DNA.
Someone who knows what agents need to grow their businesses, unlike many in other c-suites who sit in ivory towers divorced from the day-to-day needs of the 18,000 plus agencies in the UK.
---
Will Simon Clarke save the property market?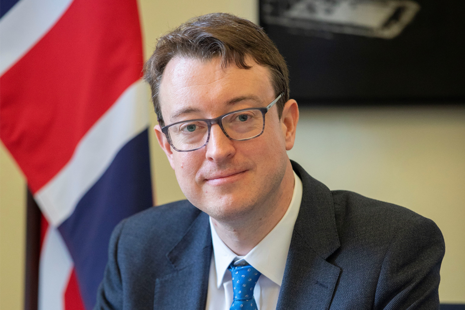 In a few days, the new Secretary of State for Levelling Up, Housing and Communities will outline his strategy for housing, but what will it look like?
Well perhaps we should look at his experience. He has been an MP since 2017 and represents Middlesbrough South and East Clevedon, so he will have hopefully some awareness of northern austerity already, unlike, for example, distant predecessor Mr Jenrick, who was very southern and London-centric when it came to housing and planning.
Mr Clarke has also done brief stints at the Treasury, so you would guess that he is financially prudent, which will come in handy given that the government is now under Hunt shifting back into austerity mode. Interestingly, Clarke received a £5,000 donation from Zac Goldsmith in August 2022 – I am unsure what that means, as Baron Goldsmith has many irons in the fire.
The big items that Clarke will need to tackle are a lack of housing and the now mythical 300,000 new homes that were to be built annually, which are stubbornly weighing in at just 180,000 a year. With homebuilders looking to restrain building in 2023 due to economic headwinds, he has his work cut out here.
The private residential lettings sector needs a resolution. On a daily basis it seems that section 21 is either being repealed or will remain – at present it will be repealed, but a new prime minister may take a different view. The crux of the landlord and tenant problem is that there is a huge tussle for power. Landlords are selling up and getting out of the sector due to higher regulation, and the erosion of their "rights" and "powers". This is causing rents to rise as there is no stock to rent.
On the flip side, many pressure groups are looking to further enfranchise the tenants' rights, mix in the fact that subsequent governments have had a creeping policy of favouring institutional landlords, rather than private landlords, and Mr Clarke will do well to navigate this complex question.
The cladding scandal also has not gone away. Hundreds of thousands of properties are still unmortgageable, trapping owners. Remedial work for many blocks has not yet started. This mess still needs addressing.
With government spending being cut back, how will the new secretary tackle social housing, where the most vulnerable people live? His own constituents live in some of the worst housing stock in the UK. So, with a general election on the cards, he needs to be looking after this part of the electorate.
"…the revolving door of politics makes any real progress impossible."

Andrew Stanton
To my mind, having seen so many housing secretaries and housing ministers come and go in the last 40 years of my life in property, just like Gove who bounced in and gave a few soundbites then bounced out, in a way it matters little what Simon Clarke announces – it is likely to buried in the upcoming carnage that the Conservative party is going to bring on itself.
The real shame here is that there is a huge number of invested stakeholders, who interface daily with the government to clearly outline the issues and solutions that need to be implemented, but the revolving door of politics makes any real progress impossible.
---
The Proptech-X Weekly Roundup in association with Estate Agent Networking.
Andrew Stanton is the founder and CEO of Proptech-PR, a consultancy for Founders of Proptechs looking to grow and exit, using his influence from decades of industry experience. Separately he is a consultant to some of the biggest names in global real estate, advising on sales and acquisitions, market positioning, and operations. He is also the founder and editor of Proptech-X Proptech & Property News, where his insights, connections and detailed analysis and commentary on proptech and real estate are second to none.