OnTheMarket named best B2B customer experience brand in the UK
OnTheMarket Group ("OnTheMarket" or "The Group") has won the gold award for 'Best B2B Customer Experience' at the 2022 UK Customer Experience Awards (CXAs).
The portal was successful in securing the overall winner's award against a collection of other leading brands in the same category, beating parcel carrier firm Yodel to the top award at a ceremony held in London's Wembley Stadium.
OnTheMarket received the prize on the back of Chief Executive Jason Tebb's successful 'Listening Tour' campaign of agent Town Hall sessions. Organisers of the CXAs also recognised significantly elevated engagement with the portal's agents throughout the past year.
The ongoing Town Hall series has been running since February 2021, with the aim of giving agents a stronger voice in how OnTheMarket supports its agents and evolves its offering. Direct feedback from these sessions has led to the development of a number of partnerships and tools, particularly in products that create additional valuation opportunities for agents.
Jason Tebb, Chief Executive Officer of OnTheMarket, comments: "I couldn't be happier that we've won a national award for our 'Listening Tour'. Our Town Halls are one of the best parts of my job and it's an honour to meet with our customers and hear what they have to say. To date, we've had over fifty events, meeting thousands of agents and it's been truly inspiring watching this movement of agents build.
I would encourage any OnTheMarket agent who hasn't been to a Town Hall yet to come along and have their say. We very much appreciate all the agents who have dedicated their time to give valuable feedback at these events. Thank you to my Client Engagement team who work so hard behind the scenes to make the shows such a success."
Mark Conway, Managing Director of CCP Recruitment, comments: "Having judged the CXA for four years, I was blown away with the passion and enthusiasm demonstrated by the team at OnTheMarket. Not only was their submission representative of their fantastic achievements, but it was also a brilliant case study of customer-centric business. It was refreshing to see how engaged and brand orientated OnTheMarket employees were."
---
---
Hayfield MD Calls on Industry to Keep Pace With Low Carbon Technology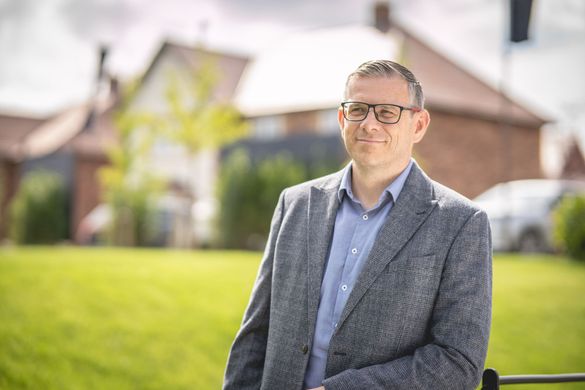 The MD of a rapidly growing housebuilder Hayfield has called on the property industry and supply chain partners to do more to keep pace with low-carbon technology.
Andy Morris, Managing Director of award-winning Hayfield, says the business is committed to ambitious targets to lessen its impact on the environment, but that efforts to install eco-technology in all of its new homes are being hampered by a lack of resources and skills shortages.
"When gas boilers were first rolled out, they were highly complicated pieces of technology; but as industry demand grew, manufacturers simplified their installation and maintenance. We now need the same resolve and vigour behind Air Source Heat Pumps (ASHPs).
"Moving towards a net zero carbon future, the housing industry and supply chain partners must step up again and ensure that the manufacturing, installation, and maintenance of low carbon technology keeps pace with growing demand.
"Only then can we ensure that supply chain and associated resources are readily available to make widespread utilisation a reality."
He added that next month's COP27, billed as 'a defining moment in the fight against climate change' where the world is being asked to move from 'negotiation to implementation', makes it clear that the time for action is now.
"We support the government's ambition to transition the UK to net zero carbon by 2050 and tackling climate change and creating sustainable communities remains at the core of what we do.
"With a considered and scientific approach, our Eco Focus specification betters current legislation and has been delivering Zero Carbon Ready Homes to the marketplace since 2021.
"Our homes are powered and heated by electricity only – we do not use fossil fuels. This, combined with other low carbon technologies we install as standard, and the high thermal efficiency of our homes, means our private homes have the potential to not add any carbon dioxide to the atmosphere during their use by a homeowner."
Heat pumps were identified as a key part of Boris Johnson's 2020 ten-point plan, and he announced a target of 600,000 installations per year by 2028. But it is widely recognised that there is a significant shortfall in the number of trained heat pump engineers needed to deliver those targets.
"We need the industry to move with us," said Andy. "We cannot do this on our own.
"The skills shortage needs to be addressed and scaled up across the key trinity of manufacturer, installation and maintenance, and we need housing and sustainability to be put at the top of the political agenda now.
"Hopefully the legacy of COP27 – promoting Together for Implementation – will motivate the UK to drive forward faster its Net Zero ambitions. A unified commitment to ensuring that our homes – and our businesses – are futureproofed is the only way to effectively tackle climate change."
---
Proptech and Property News in association with Estate Agent Networking.
Andrew Stanton is the founder and CEO of Proptech-PR, a consultancy for Founders of Proptechs looking to grow and exit, using his influence from decades of industry experience. Separately he is a consultant to some of the biggest names in global real estate, advising on sales and acquisitions, market positioning, and operations. He is also the founder and editor of Proptech-X Proptech & Property News, where his insights, connections and detailed analysis and commentary on proptech and real estate are second to none.