New property legislation kicked into the long grass
Following a weekend of Wimbledon excitement, Monday has hit with the reality that Greg Clark has become the new Secretary of State for Levelling Up, Housing and Communities in the wake of Boris Johnson's resignation. Under Clark will be two new ministers for housing, Paul Scully and Marcus Jones.
We know that Mr Clark has some grasp of housing due to his prior experience as Secretary of State for Communities and Local Government, which held for just over a year before being replaced by Sajid Javid.
However, ministers Scully and Jones have virtually no background in this sector. Is this a problem? Well, not entirely. The likelihood is that when the new Prime minister is installed a new Housing Secretary will be put in place. Should they choose to d the levelling up slogan and face the hard facts? Let's see.
Depending on how this week pans out we could be waiting until September to find out who the new Prime Minister will be, which means that everything in the recent Queen's Speech is on ice for the time being. Ultimately it will be subject to the views of Boris' replacement and their team.
This itself begs some questions. If Priti Patel takes the pole position, will rogue landlords be on a one-way flight to Rwanda? If Jeremy Hunt gets into power, what big ideas does he have about the housing sector? Will he be adversarial, as he was while the Health Secretary? Or, if the giveaway Chancellor Rishi Sunak takes office will he tinker with SDLT again?
In an uncertain world, with the cost of living crisis being mentioned as a soundbite by all politicians, rampant inflation, and the likelihood of regular monthly upward interest rate rises from the Bank of England, we may well see a very different landscape in the property sector come September.
Add in the holiday season that is upon us, it seems to me that we all could be in for yet another bumpy ride this autumn, and in more ways than one.
---
Thirty-One Percent of Property Sales Falling Through Before Completion as Lenders Get Tougher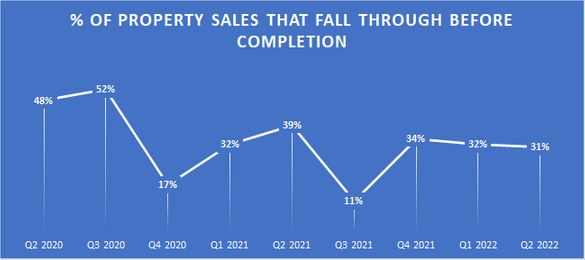 PRESS RELEASE: Thirty-one percent of property sales fell through before completion in the second quarter of the year, according to new figures from Quick Move Now.
Of the sales that collapsed, 30 percent failed due to buyers being refused funds by mortgage companies. This suggests growing caution from lenders.
Danny Luke, Quick Move Now's managing director, says: "It's unusual, in this day and age, for buyers to have an offer accepted on a property without having an agreement in principle in place with their mortgage lender. This would suggest that the 30 percent of failed sales attributed to difficulty securing a mortgage are due to buyers being turned down during the formal mortgage application process after initially securing an agreement in principle. This indicates that underwriters are getting tougher in the level of risk they're willing to accept, both in terms of buyer circumstances and finances, and properties they're prepared to lend on.
"Overall, the fall through rate has remained stable throughout the first half of this year, falling just one percent between the first and second quarter, but the reasons for failed sales tell an evolving story about the challenges currently being faced by the property market. We've already touched on the 30 percent of failed sales attributed to difficulty securing lending, but it seems it's not just lenders who are showing growing caution. An extraordinary 50 percent of failed sales were attributed to the buyer changing their mind, pulling out in favour of another property, or pulling out after an unfavourable survey report.
"Growing inflation and cost of living have made it inevitable that both lenders and buyers would start to show greater caution. We have also seen delays in the conveyancing process that are resulting in an increasing number of buyers being required to apply for extensions to their mortgage offers. Those that were initially offered a mortgage may find that they're unable to secure an extension to their offer, even if their circumstances haven't changed. With lending criteria toughening up, difficulty securing mortgage finance is an issue that I suspect we will see much more of in the coming months."
The remaining 20 percent of failed sales were attributed to gazumping (where the seller pulls out of the sale in favour of a higher offer from another buyer) and changes in the buyers' circumstances that mean they're unable to continue with the purchase.
---
Homesearch announce new partnership with Propertymark
PRESS RELEASE: Property data and estate agent prospecting platform, Homesearch has announced that it has secured a new partnership with Propertymark, enhancing support for its estate agent members and boosting growth innovation across the industry.
Under the new partnership, Homesearch will collaborate with the industry body on a range of initiatives, helping agents better utilise proptech and maximise market data to generate new leads, win more instructions and increase revenues.
Agents can expect to benefit from a series of educational webinars and industry events, whilst the partnership will play a pivotal role in helping Homesearch grow its market presence in Scotland.
Having recently launched north of the border, Homesearch will work with Propertymark to equip Scottish agents with the tools needed to stay ahead of the competition – culminating in the Scottish National Conference event held in September.
Giles Ellwood, CEO and co-founder of Homesearch, said: "This partnership aligns one of the most important voices in the sector with one of the UK's leading proptech businesses. We want to support the industry and help estate agents drive tangible business growth, no matter what the market conditions."
One of the key facets of the partnership will be guiding agents on how to use big data to access both on and off-market properties across England, Wales and Scotland – not just the small percentage of stock listed on portals.
Giles added: "Working with Propertymark taps into our core ambition to drive real innovation across the whole property industry."
Nathan Emerson, Propertymark CEO, said: "We're pleased to venture into a new partnership with Homesearch. We want to introduce our members to a range of technology that can aid their practise and Homesearch seems to be at the forefront of data analysis to assist agents in the pursuit of those elusive new instructions."
---
RICS: Demand and sales continue to cool although pricing trends remain relatively firm at this stage
New buyer enquiries indicator moves further into negative territory
New instructions remain more or less fl at while sales soften slightly
House prices still rising across all parts of the UK, albeit the pace of growth appears to be easing somewhat
The June 2022 RICS UK Residential Survey results again point to a softening in demand at the headline level. Nevertheless, with new instructions remaining generally fl at over recent months, tight supply conditions are still underpinning house prices. Indeed, for the time being at least, respondents continue to cite an increase in house prices across all parts of the UK, even if the pace of growth looks to be easing to a certain degree.
At the national level, the latest net balance for new buyer enquiries slipped to -27%, down from a reading of -9% previously. As such, this marks the second consecutive month in which the survey's headline measure of demand has been in negative territory. Interestingly, the feedback on buyer enquiries is a little more resilient in London compared most other parts of the UK, with the capital exhibiting a net balance of +7% in June.
Meanwhile, the volume of sales agreed over the month dipped slightly at the UK-wide level, evidenced by a net balance of -13% being returned in June (a little softer than a fi gure of -5% posted in the previous iteration of the survey). Looking ahead, near-term sales expectations are now marginally negative, with a net balance of -9% of respondents anticipating a fall in transactions over the coming three months. Further out, twelve-month sales expectations are also negative, delivering a net balance of -21% (albeit this is broadly in-line with last month's reading of -24%).
Looking at the feedback around new instructions, the latest net balance of -1% remains consistent with a more or less fl at trend across the UK in aggregate. Moreover, survey participants are also reporting market appraisals to be broadly unchanged relative to the picture twelve months ago, suggesting the tight supply backdrop is unlikely to shift drastically in the immediate future.
With available stock on the market still limited, house prices continue to drift higher despite the recent cooling in demand. In aggregate, a net balance of +65% of respondents noted an increase in house prices over the latest survey period. Although this is down slightly on a recent high of +79% back in April, the latest reading is still indicative of a solid pace of house price infl ation and comfortably above the long-run average of +13%. Disaggregating the data shows that Northern Ireland, Yorkshire & the Humber and the South East all continue to see particularly strong house price growth.
Andrew Stanton is the founder and CEO of Proptech-PR, a consultancy for Founders of Proptechs looking to grow and exit, using his influence from decades of industry experience. Separately he is a consultant to some of the biggest names in global real estate, advising on sales and acquisitions, market positioning, and operations. He is also the founder and editor of Proptech-X Proptech & Property News, where his insights, connections and detailed analysis and commentary on proptech and real estate are second to none.