PRESS RELEASE: Canopy and Housing Hand Announce Exclusive New Partnership
The UK's leading rental guarantor service Housing Hand and revolutionary renting firm Canopy have announced a new partnership that will further both companies' mission to reduce barriers to private renting.
The partnership will see Housing Hand support renters who would otherwise be ineligible to move home. As a result, an increased number of tenants who were previously locked out of the housing market, will now have the ability to find and move into their new home. While doing so, they will also be able to enjoy the vastly simplified renting process that Canopy provides.
Nearly 9% of all Canopy references over the last year required a Guarantor. No doubt this number will only increase even more over the next few months given the current economic climate. Canopy has already seen this number jump to over 12% in the last 3 months.
Housing Hand has operated as the market leading guarantor services provider for over nine years. It has provided continuous services through the most turbulent times, maintaining a 100% record of pay-outs for all valid claims. The company is backed by a strong financially rated UK insurer, to underwrite its rent default liability, and has partnered with and served over 7,000 accommodation providers. During that time, Housing Hand has processed more than 80,000 tenant applicants and guaranteed over £600m worth of rent. The company's focus is on opening private renting to a wider pool of individuals by removing traditional barriers.
Canopy, meanwhile, is on a mission to revolutionise renting. The company provides an ecosystem for renters, letting agents and landlords, improving the lives of rental households by providing access to tools, services and products that fix pain points and enable them to improve their financial health.
From July 2022, Housing Hand will be working with Canopy to serve as a rental guarantor for those who want to rent but don't meet traditional referencing requirements.
Individuals usually have to earn 2.5 to 3 times the annual rental amount in order to be eligible to rent a property. With Housing Hand, they only need 1.5 times net earnings to qualify, which significantly lowers the threshold for accessing a rental property.
Crucially, Housing Hand then serves as the individual's guarantor, which means that the risk sits with Housing Hand, and not with the landlord. 100% of rent is covered 100% of the time, meaning that the landlord can access a wider pool of potential tenants and renters can unlock their next move.
Chris Hutchinson, Chief Executive Officer of Canopy, said: "We often hear about renters who are likely great tenants but are unable to meet the minimum criteria expected by the housing market. By partnering with Housing Hand, the biggest rent guarantor service in the UK, we are able to support more of these renters in finding a new home, while ensuring that landlords actually have even more protection."
"Rising uncertainty in the wider economy is leading to a growing need for guarantor services and now our housing market partners can say yes to more potential renters while at the same time, reducing the risk they face."
"For renters, choice is key. For those who are asked to provide a Guarantor but are unable to find one, or don't wish to use a family member, this service enables them to move into a property without having to pay more rent upfront. This partnership allows us to fulfil our mission of removing pain points for renters, letting agents and landlords, and the integrated user experience makes it seamless, and simple, for all involved.'
The Housing Hand/Canopy partnership will further both organisation's missions to make renting more accessible, delivering benefits to all those involved in the rental transaction process.
James Maguire, Head of Sales and Business Development at Housing Hand added: "We are delighted to be partnering with Canopy to make renting more accessible and to ease the process for tenants, agents, and landlords alike. With no cap on the number of professional renters that Housing Hand can guarantee, we are opening the market up to a wider pool of tenants for our partners, while reducing risk and increasing occupancy across the private rental sector. We look forward to a long and successful partnership with Canopy and further collaborative innovations over the coming years."
---
---
Daniel Gale to helm Leaders Romans Group's First for Auctions brand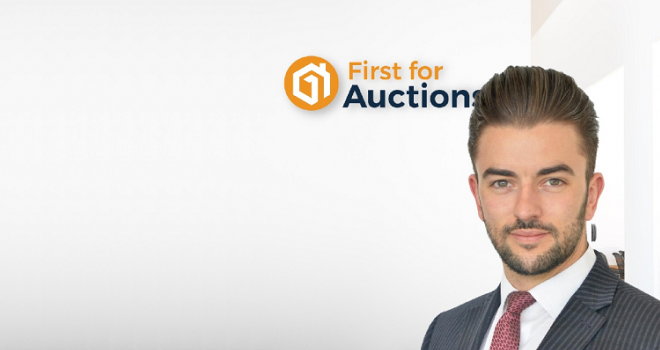 Leaders Romans Group (LRG) has announced the appointment of Daniel Gale to Head of Auctions for one of the largest property service group's offshoot brands First for Auctions.
After joining LRG as a Sales Negotiator in 2007, Gale made the move to the Auctions Division three years later, where he has been operating for a decade now. 
He is considered to be one of the most instrumental figures at Leaders Romans Group, driving the company's switch to online auctions amidst the widespread prevalence of virtual services, due largely to the pandemic.
Daniel Gale said: "I am extremely grateful to be leading such an incredibly experienced team and building on the success we've already had. I would like to thank them for their guidance and support throughout my many years at Romans and then LRG.
"The team has continued to produce incredible results for the business and our clients, averaging a 95% success rate on properties sold. I am looking forward to the next chapter in my journey at LRG, starting off with expanding First for Auctions nationally.
"Since the pandemic, we've seen many people opting for online services, including prospective home buyers. And, in turn, we've seen a significant increase in demand from homeowners interested in selling through online auctions. The expansion of this offering from LRG comes at a time when online auctions are becoming extremely popular because of the speed and certainty it can offer.
"We are very proud of the work we have been doing to further increase awareness of the benefits of selling through auction. Our mission is to demystify the auctions process so that where circumstances call for a more swift, efficient, and transparent sale, people looking to sell their homes benefit from the support of an experienced team who will be there every step of the process.
"It is a very exciting time to be part of property auctions as they grow exponentially in popularity, and I look forward to taking the First for Auctions brand national to watch that success grow."
Andrew Stanton is the founder and CEO of Proptech-PR, a consultancy for Founders of Proptechs looking to grow and exit, using his influence from decades of industry experience. Separately he is a consultant to some of the biggest names in global real estate, advising on sales and acquisitions, market positioning, and operations. He is also the founder and editor of Proptech-X Proptech & Property News, where his insights, connections and detailed analysis and commentary on proptech and real estate are second to none.