Inventory Base joins MRI Software's Partner Connect program
The partnership with MRI Software will enable operational change and improve efficiency in the property industry
Inventory Base, a leading, multi-award-winning inventory and property reporting app for inventory providers, agents and property professionals, has partnered with MRI Software, a global leader in real estate software and solutions, to further its goal of making property management, property inspections and reporting faster and more efficient for all stakeholders.
MRI's approach to open and connected technologies is shared by Inventory Base and serves the unique needs of real estate businesses and property professionals all over the world. Through the MRI Partner Connect program, the Inventory Base app will now be readily available for many of MRI Software's 45,000 clients in over 170 countries.
Steve Rad, founder of Inventory Base, comments: "Our partnership with MRI Software solidifies Inventory Base's ambition to speed up the property process and drive cultural and operational change in a fragmented industry. Joining the Partner Connect program enhances our relationship with MRI Software, bringing our solution to a more diverse range of users and industries. As a result, their workflows and processes will be more connected, benefiting from integrations that make a real difference for their business and the industry as a whole."
Although the global real estate industry is growing at a significant rate, professionals working in the space still face countless stumbling blocks in their day-to-day activities, which slows down the property transaction process for buyers and vendors and negatively impacts the market.
Through App Connect, MRI customers can now connect all of their property service providers together with in-house management teams to collaborate, outsource and centralise property documentation, inventories and certificates, providing both in-house reporting tools and collaboration tools to streamline property processes.
Sean Slack, Vice President of Partnerships, MRI Software, comments: "We're excited to partner with Inventory Base, a company that plays a crucial part in ensuring lettings agents are able to efficiently run every part of their business and provide high quality service to tenants and landlords. Many of our clients already use Inventory Base, so this partnership is a natural progression in our relationship as we work to serve our mutual clients and the industry better.
Inventory Base's integrations, made possible by its open API, have become far-reaching, with over 150,000 users across the globe relying on the multi-platform application to deliver more than 3.4 million property reports.


---
---
Appeal of Shared Ownership Now Attracting First Time Buyers Across the UK's Cities and Towns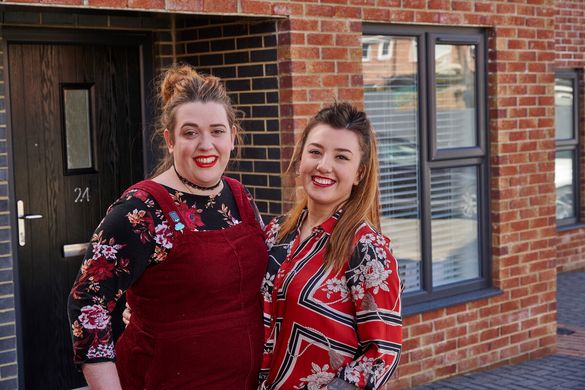 With mortgage rates on the rise, the dream of home ownership seems to be slipping even further away for many people. Yet, as one door closes another is beginning to swing further open, with the shared ownership model offering an alternative cost-effective route to get onto the property ladder.
In the capital, where shared ownership has been an established route to owning a home for some time, as it can offer a cheaper and more permanent option to rental properties. In Wembley, a two-bedroom shared ownership property comes to around £1,800pcm including rent, mortgage, and service charges – compared to rental properties in a new build site at around £2,600pcm.
While shared ownership conversations are now a staple of the London housing market given the cost of property, similar conversations are going on up and down the UK as prospective buyers are faced with far greater sums to secure their new home.
Just as is seen with a two-bedroom in Wembley, shared ownership can be a route to alleviate some of these challenges. For many young homeowners, it can be one of the only ways to afford that first home.
In Newcastle, for example, a 25% share on a two-bedroom shared ownership property is available for as little as £35,000. In Leeds it's £37,500, while in Liverpool it's £40,000. This requires significantly less deposit to be saved than many similar outright purchase homes in the same neighbouring streets.
Emily and Tyler are a couple who bought a shared ownership property in Newcastle. For them, shared ownership made their dream of moving into their own home a reality.
Having previously been renting a property in nearby Gateshead and keen to move back into Newcastle, they explained: "There's no way we could go for a 100% of a house. It would have taken us years and there would have been no point at all.
"I loved the idea of shared ownership as you get all the benefits of owning the house outright and it's much more affordable for us. We worked out that it's about £2 extra a month from what we were paying in rent and having the option to up the percentage is really appealing.
"It's a great option. None of our friends have an 100% mortgage on a house, most use this scheme or rent. It's great for people our age who wouldn't be able to manage a mortgage otherwise."
Shared ownership is also making an impact in less urban areas, as the realisation that buying a house outright is a step too far for a significant number of people.
This type of growing interest shows that the mindset towards shared ownership is changing in line with growing costs and a new generation of prospective homebuyers. Recent data from Leeds Building Society showed that an average of three out of five of all shared ownership buyers over the last three years bought homes in UK regions outside London and the South East.
Part-owning a home through shared ownership already brings down the high barrier to entry costs involved in the current housing market, with companies introducing further schemes to open up the dream of home ownership to more prospective buyers.
Through their Deposit Boost scheme, Persona Homes offer the opportunity to add an additional 5% to a customer's deposit when they look to purchase a 25% share on a shared ownership development. This can help homebuyers secure better terms on their mortgage, help them purchase a larger or different home than they had initially set out to buy, or help them get onto the property ladder sooner than they may have believed possible.
Christopher Bond, Head of Sales at Persona Homes, said: "Everyone knows it's been a real challenge for some time for people to get on to the property ladder. The past year or so – cost of living crisis, mortgage rate increases etc – has made that challenge insurmountable for many.
"It's not surprising, therefore, to see the take up of shared ownership growing across the UK. Shared ownership offers a decent sized step on that ladder, with those steps increasing the more of that property you own as time goes by. A process called staircasing.
"One of the issues in the past was that shared ownership wasn't always fully explained. That has changed and buyers are aware of the way the process works in comparison to outright sale. That could be another reason for the higher take up we see today."
With increasing numbers of shared ownership developments being delivered around the country and new grant funding through the Government's £11.5bn Affordable Homes Programme (AHP) 2021-26 ensures a steady supply of new properties to the market, more and more buyers will be able to move out of their rented or parents' homes into a place they can call home.
---
Proptech and Property News in association with Estate Agent Networking.
Andrew Stanton is the founder and CEO of Proptech-PR, a consultancy for Founders of Proptechs looking to grow and exit, using his influence from decades of industry experience. Separately he is a consultant to some of the biggest names in global real estate, advising on sales and acquisitions, market positioning, and operations. He is also the founder and editor of Proptech-X Proptech & Property News, where his insights, connections and detailed analysis and commentary on proptech and real estate are second to none.