Generation Rent: 29 homes lost per day to the holiday homes sector
PRESS RELEASE: England's housing supply lost nearly 11,000 properties to the second home and holiday let sector between 2021 and 2022, according to analysis of local tax data by Generation Rent.
This continues a trend of homes leaving the residential sector that has accelerated in recent years, and is equivalent in some areas to the loss of more than 2% of the housing stock between 2019 and 2022. This has led to greater competition for vacant homes and inflationary pressure on prices and rents.
Holiday lets face very little regulation, meaning they are a more lucrative option for landlords in tourist hotspots. On Friday, Rachael Maskell MP is introducing a Bill to the Commons that would give local authorities the power to require holiday let operators to obtain a licence in order to let a property to tourists.
Generation Rent examined:
council tax data published by the Department for Levelling Up, Housing and Communities which includes the number of second homes; and
data on commercial holiday lets registered for business rates, obtained by a Freedom of Information request to the Valuation Office Agency.
Between 2021 and 2022, the number of second homes in England increased by 3,556, to 256,913. The number of holiday lets increased by 7,153, to 73,624. This is a total of 10,709 homes – equivalent to 29 per day.
While this is a similar increase in holiday lets to the 7,102 seen during 2020-21 (when pandemic restrictions on international flights led to a boom in domestic tourism), the growth in second homes has accelerated from 807 in that year.
Over 2019-22, the number of holiday lets and second homes has increased by 25,317. The growth in this period has been concentrated in traditional holiday hotspots as well as some urban districts. Leicester saw the biggest loss of primary homes, mostly to second homes, equivalent to 2.2% of the city's 2020 housing stock. This was followed by Scarborough, South Hams in Devon, the London Borough of Southwark and Copeland in Cumbria, which all saw more than 1% of their housing stock move into the second homes and holiday lets sector in the space of three years.
The effective loss of homes serving as primary residences places upward pressure on rents. At a regional level, the East Midlands lost 2.0 in every 1,000 homes to the holiday sector and the South West lost 1.9 in every 1,000 homes between 2019 and 2022. These regions also saw the highest rent inflation in the same period, of 10%, as measured by the ONS. London had the lowest change in homes classed as second homes and holiday lets (0.1 in every 1,000 homes) and the lowest rent inflation in England, of 3%.
In recent days, several newspapers have reported that the government is considering requiring holiday lets to have planning permission. A similar policy is already in place in London, where homes let out on a short term basis for more than 90 days in a given year must obtain planning permission. Unfortunately this policy is not well-enforced, with 6,297 of 41,224 whole-property Airbnb listings in London available for more than 90 days.
Rachael Maskell MP is taking a different approach, with councils able to issue temporary licences and cap their number. Her Bill will be debated on Friday.
Dan Wilson Craw, Deputy Director of Generation Rent, said:
"High nightly rents and the lack of tax and regulation have fuelled an explosion in holiday lets at the expense of people who just need a place to live. In many parts of the country that is forcing people to move away from the places they grew up, and leading to shortages of workers.
"The government is beginning to recognise the need to intervene. However, it is not clear that planning changes are the answer given how limited their impact has been in London. The permanent nature of planning permission would also make properties designated as holiday lets disproportionately more valuable than other properties.
"Instead, councils should have the power to require holiday lets to have a time-limited licence, and cap their number where there is a severe shortage of homes. This would be a more flexible and responsive approach than using the planning system, and would be easier for councils to enforce."
---
---
Angels Media and Facebook expert Paul Long announce major new tie-up to supercharge lead generation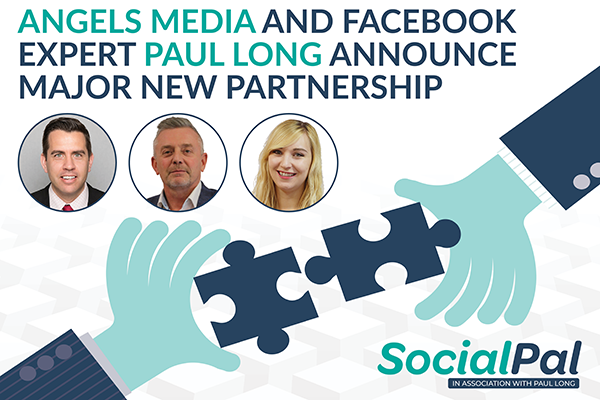 Angels Media and Paul Long have announced an exciting new partnership to 'supercharge' their social media lead generation service to agents.
SocialPal is a unique collaboration between Facebook advertising expert, Paul and Angels Media Head of Marketing, PR and Social Media, Steph Rady.
Working together to combine knowledge, tools and experience, they believe they will dramatically improve existing services.
Paul – affectionately known as 'The Facebook Expert' – currently has between 200 and 300 agents each year subscribing to a selection of different services including one-to-one and group training, managed services, boot camps and consultancy.
The Angels Media social media team, headed up by Steph, has fully managed hundreds of agents' social media campaigns – including Facebook adverts – delivering a first-class service and hundreds of thousands of leads.
Now the two have combined to offer agents the ultimate social media lead generation service.
In today's market, demand for such a service is high, with more agents finding social media and digital lead generation complicated, ever-changing and time-consuming.
Outsourcing this service to professionals is a logical solution, allowing agents to get on with daily tasks in the knowledge that new leads are consistently filling the top of their sales funnel.
Paul Long will be fully involved in SocialPal to ensure the service provided exceeds expectations. He will be reaching out to his current clients who will be the first to benefit from this new partnership.
"Working together will allow us to help more agents," Long commented. "We can now roll out services and techniques that are already generating great results.
"Using our combined knowledge, data and experience can only benefit everyone, especially in a digital/social media space that is changing on a daily basis and making it very challenging for estate agents to keep up with and incorporate into their businesses."
Rady said: "We are absolutely delighted to partner with Paul Long. He is Facebook ads supremo and together we will improve and enhance the social media lead generation service to agents.
"There are so many opportunities for agents when it comes to social media, and particularly Facebook ads. This partnership will enable us to supercharge them."
---
Proptech and Property News in association with Estate Agent Networking.
Andrew Stanton is the founder and CEO of Proptech-PR, a consultancy for Founders of Proptechs looking to grow and exit, using his influence from decades of industry experience. Separately he is a consultant to some of the biggest names in global real estate, advising on sales and acquisitions, market positioning, and operations. He is also the founder and editor of Proptech-X Proptech & Property News, where his insights, connections and detailed analysis and commentary on proptech and real estate are second to none.