Lower Pricing Triggers Uptick in Demand
PRESS RELEASE: Lower prices and mortgage rates have piqued buyer appetite, according to Home.co.uk's Asking Price Index for March.
Returning buyer demand has reduced the Typical Time on Market by five days since last month and is a sure sign that the market is picking up pace in the wake of the Truss-Kwarteng debacle. This renewed momentum came at the cost of a price correction, effectively writing off all the gains of 2022 and a little more. However, with the froth of the COVID boom cleared from the market, UK home prices look set to consolidate over the coming months as demand and supply find a new equilibrium.
Fears of a flood of panic sales prove to be unfounded as supply remains restrained. In fact, the monthly rate of new instructions is slightly down on February 2022. Meanwhile, the total stock of unsold property on the market is still below pre-COVID levels despite having recovered significantly following the unprecedented buyer frenzy of 2020/21.
Rents are up significantly in all regions and most notably in Greater London and Scotland. The lettings market continues to be overwhelmed by demand and this has driven the mix-adjusted average rent up just over 17% overall. Since rental returns fundamentally underpin property values, this is clearly a very positive trend for the sales market.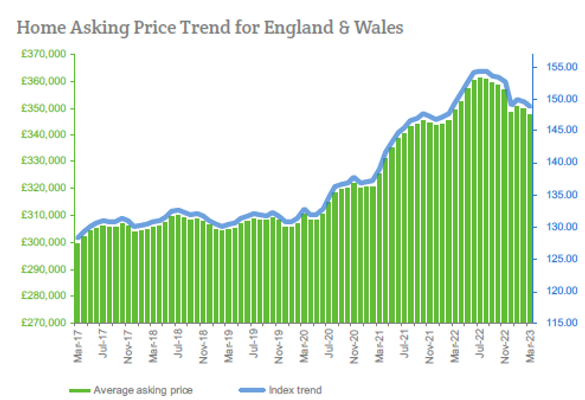 The typical gross yield on a two-bedroom flat in London has risen to 7%.
Demand is supported by the mortgage market which currently offers many fixed-rate deals at 4% or less. Moreover, for those that can afford a deposit, real mortgage rates remain negative by quite a margin, irrespective of the measure of inflation (RPI or CPI) you prefer. Additionally, pay growth at 7.3% helps support lending based on earnings multiples.
The annualised mix-adjusted average asking price growth across England and Wales is now -0.5%; in March 2022, the annualised rate of increase of home prices was 7.4%.
Headlines
Asking prices across England and Wales slipped a further 0.6% during February, making the year-on-year growth negative (-0.5%) for the first time since Dec 2019.
The Typical Time on Market for unsold property in England and Wales dropped by five days during February to make the median 95 days, showing that the market is picking up pace as demand increases.
Asking prices in February fell in Wales, Scotland and all English regions except the North West and West Midlands where there was no change.
The total sales stock count for England and Wales increased in February by just 3,585 to reach 372,638, indicating that property remains scarce relative to the 10-year average of 422,668.
The supply rate of new instructions remains subdued, dipping 1% last month compared to February 2022.
The East of England shows a remarkable drop in the Typical Time on Market from 91 to 78 days, which is considerably lower than it was in February 2019.
The Scottish property market falls into second place in terms of annualised regional price growth (4.0%), behind the North West at 4.1%.
Rents across Greater London continue to rise, up 21.4% year-on-year. Low supply is still a persistent problem although the pace of the rent hikes in the more central boroughs has slowed somewhat over recent months.
The current new growth leaders in asking rents are the outer London boroughs of Brent, Harrow and Ealing (+35%, +34% and +32% annualised respectively).
---
---
Budget: Squeezed renters continue to face threat of arrears and homelessness
Commenting on the lack of support for renters in today's Budget, Alicia Kennedy, Director of Generation Rent, said:
"The cost of living crisis has hit private renters the hardest, with 50% being asked to pay more rent – on top of other bills going up. Evictions for rent arrears are at their highest level on record.
"The millions of people who rely on the benefits system to cover their rent are being squeezed more and more, with Local Housing Allowance frozen since 2020 but rents having risen in that time by 8% nationally.
"The Chancellor had an opportunity today to provide some respite by relinking Local Housing Allowance to market rents. But this inaction means we will see more people get into debt and face homelessness."
A Generation Rent survey in November 2022 found that 50% of private renters had been asked to pay a higher rent in the previous 12 months.
According to DWP statistics, 1.88m private renter households receive Local Housing Allowance through either Universal Credit or Housing Benefit.
According to Ministry of Justice statistics, there were 5,090 Possession Orders in Q4 2022 under the Private Landlord process, which are almost all related to rent arrears.
The ONS Index of Private Housing Rental Prices increased from 108.8 in March 2020 to 117.2 in January 2023, an increase of 8%.
---
Proptech and Property News in association with Estate Agent Networking.
Andrew Stanton is the founder and CEO of Proptech-PR, a consultancy for Founders of Proptechs looking to grow and exit, using his influence from decades of industry experience. Separately he is a consultant to some of the biggest names in global real estate, advising on sales and acquisitions, market positioning, and operations. He is also the founder and editor of Proptech-X Proptech & Property News, where his insights, connections and detailed analysis and commentary on proptech and real estate are second to none.