Generation Rent: Tighter protections needed for reforms to benefit renters
PRESS RELEASE: Responding to the report of the Levelling Up, Housing and Communities Select Committee on Reforming the Private Rented Sector, Alicia Kennedy, Director of Generation Rent, said: "Private renters will never enjoy stability in their lives or have the power to complain about their home if they can be evicted without the landlord needing a reason. 
"The committee is spot on with its warning that the proposed new eviction grounds could be too easily exploited by bad landlords and leave renters vulnerable to unfair evictions.
"When landlords sell up, renters should get more protection from eviction including measures to encourage sales of tenanted properties and longer notice periods.
"The report also shows the increasing political understanding of the need to control the rise of the holiday let sector, which takes homes away from renters in tourist hotspots, and for greater efforts to improve energy efficiency in private rented homes.
"Private renters have been especially exposed to the rising cost of living, with rising rents and draughty homes. We now need to see urgent action from the government to bring forward their Bill to make these reforms a reality."
---
---
Tenancy Deposit Scheme launches API integration with agent CRM solution, Apex 27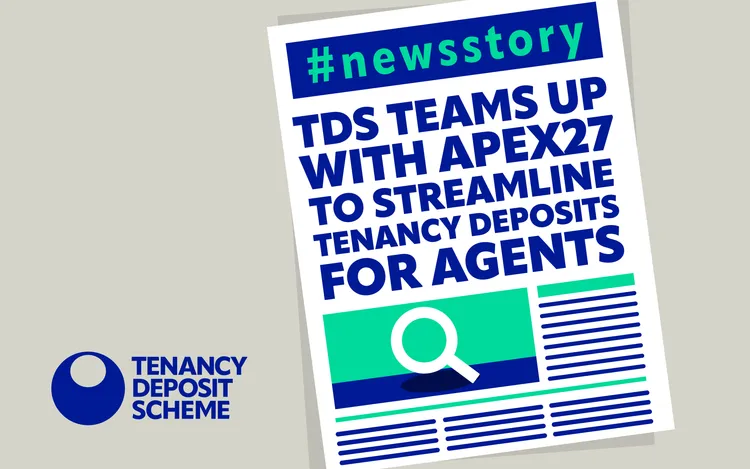 PRESS RELEASE: The Tenancy Deposit Scheme is pleased to announce the innovative CRM solution created for estate agent professionals Apex 27, has integrated with the TDS API.
Benefits for agents: The API is designed to simplify the transfer of deposit data from a CRM database onto the deposit scheme platform. Historically, this process has been a manual and time-consuming task for letting agents, creating a duplication of work and an opportunity for human error.
Launching initially in the popular, free Custodial scheme, agents will benefit from this automatic deposit data transfer, reducing unnecessary admin and allowing more time for agents to focus on their core business.
Key features of this integration: Apex27 was formed in 2019 with a mission to create a modern, responsive CRM platform for agents that was full-featured, easy to use and also offered great value. Since its launch, Apex27 has grown, with over 1000 agents signing up for an account.
James Wright, Founder of Apex27 comments: "Apex27 is all about saving agents time, and one of the bests ways of doing just that is to automate repetitive tasks. The integration between Apex27 and the Custodial Scheme offers a simple single-click solution to setting up a security deposit and retrieving the scheme reference number."
Steve Harriott, Group Chief Executive Officer at TDS comments: "We understand how tedious it is for letting agents to re-enter deposit data at the start of a tenancy. Our team has ensured that the API streamlines this process, providing agents with an effective solution. Our aim is to keep on making tenancy deposit protection as speedy, secure, and compliant as it can be."
Watch the integration in action
To see a demonstration of how the integration between Apex247 and TDS API works, watch this video.
Streamline your processes with a CRM solution integrated with our API: "We're thrilled to integrate with a company we trust, which offers an easy-to-use CRM and the full functionality of what agents need" says Debbie Davies Head of Sales and Client Success at Tenancy Deposit Scheme,  "this integration is immediately available to all new and existing Custodial customers using the Apex27 CRM platform software."
If you would like to find out how Apex247 can save you time and money, visit their website for more information.
Is your CRM software integrated with TDS API? The API is available in our FREE Custodial deposit Scheme and Insured deposit scheme, which offers the best rates on the market, and it's easy to integrate; our tech team has created the API to embed in just a few steps.
Begin your integration journey today!
---
Proptech and Property News in association with Estate Agent Networking.
Andrew Stanton is the founder and CEO of Proptech-PR, a consultancy for Founders of Proptechs looking to grow and exit, using his influence from decades of industry experience. Separately he is a consultant to some of the biggest names in global real estate, advising on sales and acquisitions, market positioning, and operations. He is also the founder and editor of Proptech-X Proptech & Property News, where his insights, connections and detailed analysis and commentary on proptech and real estate are second to none.