More Than Half of Property Sales Fell Through in First Quarter as Market Adjusted to 'New Normal'
PRESS RELEASE: More than half of property sales fell through in the first quarter of this year, according to new figures.
Data from Quick Move Now suggest that 55.8% of property sales in England and Wales collapsed before completion, as uncertainty continued to plague the property market.
Of the sales that failed, 29% were attributed to buyers getting cold feet and changing their mind about the property. A further 25% were due to the buyer pulling out over legal issues or as a result of a survey report. The remaining failed sales were attributed to chain break, difficulty securing a mortgage, slow sale progress and miscellaneous causes.
| | |
| --- | --- |
| Reason for failed property sale | Percentage of failed sales |
| Buyer changed mind | 29% |
| Legal/survey issues | 25% |
| Chain break | 21% |
| Difficulty securing a mortgage | 12.5% |
| Slow progress | 8% |
| Miscellaneous | 4.5% |
Danny Luke, Quick Move Now's managing director, says: "The first quarter of this year was very challenging for the property market, as it struggled to recover from the turbulence of 2022. There has been a huge amount of uncertainty, which is reflected in the number of property sales that have fallen through.
"When we look at the reasons why property sales failed, it's clear that there is still a lot of uncertainty in the market. Buyers changing their minds and pulling out of the sale remains the top reason for unsuccessful sales, followed by buyers pulling out due to survey or legal issues.
"Chain break also remains a challenge for buyers and sellers, and with the market moving more slowly, it is increasingly difficult to complete a property chain for a second time.
"We also can't ignore the impact the mortgage industry's new rates are having on buyers. One-in-eight failed sales in the first quarter of this year were attributed to difficulty securing a mortgage, as buyers struggle with higher mortgage interest and impacted affordability.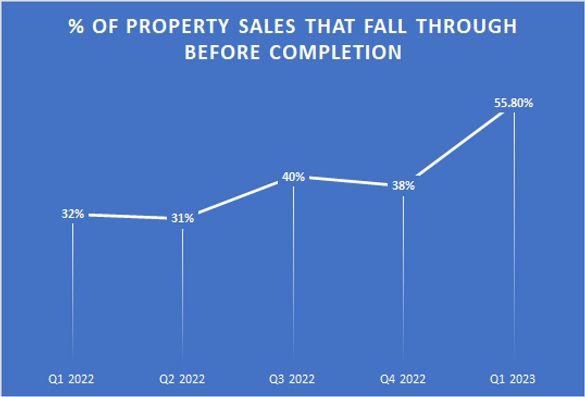 "Over the last year, property prices have experienced the biggest annual decline since 2009 and property transaction volumes remain subdued. As we move forward into the second quarter, I hope we will start to see a more settled market. Mortgage interest rates are far less turbulent and there is still strong demand for property in many areas, albeit in smaller numbers.
"It's taking a little time for the market to get used to the 'new normal', but the market will find its new rhythm. We're unlikely to see prices and volumes return to 2021 levels, but I do believe we will see the beginnings of a more stable and healthy market later this year."
---
---
REVEALED – WHAT ESTATE AGENTS NEED TO KNOW TO SUCCEED AT COMPLIANCE IN 2023
The dreaded 'C word' – compliance – has been facing Estate Agents for years now and it's not going anywhere.
Here, two industry experts, Emma Burdis – Head of Compliance at iamproperty and Louis Lancaster – Risk and Compliance Manager at Credas, look ahead at what's to come on the compliance-front during the rest of the year that will impact agents.
Emma and Louis also share some top tips to help agents succeed at compliance, keeping them one step ahead.
What agents need to look out for in 2023
Now that Upfront Material Information is a requirement, it could be transformative for improving the speed and process of transactions, but only if agents are using the right technology to gather the information for them. Agents are already very pressed for time, so having to gather the additional information themselves is going to add unwanted pressure. If agents aren't already using technology, it's good practice to look into it now before parts B and C come into play.
We're also going to see an increase in regulator fines. Last year HMRC did more visits than ever and issued some big fines. It's likely this will continue. Off the back of Covid and how busy the sector has been, it's more likely that some due diligence will have fallen through the cracks.
They'll also be keeping in mind all the companies that requested bounce back loans and will likely start checking if any of them went on to buy property with any of that money. The Economic Crime and Corporate Transparency Bill, will mean that any company registering with Companies House will have to have its identity verified for any director and PSC. This will mean a big shake up this year. Trying to get to the bottom of who owns the companies that are buying or selling can be difficult as there's so many layers, so having the verification upfront is really going to help agents with this process. It's another thing that technology can help with.
There's the UK Digital Trust Framework by DCMS too. The Home Office and DBS are already using it. This year they're going to be running adoption sprints for the home buying and selling sector and HMRC is going to be involved. This will really help to bring HMRC into the 21st Century.
New challenges agents are likely to face this year
HMRC's lack of guidance about what to look for from a technology provider is causing confusion among some agents. The regulations say 'yes you can use technology', but they don't go far enough to say what they would expect. Does HMRC prefer technology over non-technology, and if you do use technology what kind of levels and what are the minimums that you need? Not getting enough clarity from HMRC on what's acceptable is holding back adoption among some agents, which is making the day to day more difficult for them. Hopefully, the adoption sprints by DCMS will help to give some clarity. There's also the ongoing Russian sanctions. This isn't going away anytime soon unless Putin decides to pull out of Ukraine. It's another area where technology can really support agents, where at the press of a button agents can get the latest database, saving them time and reducing the chance of them transacting with someone they shouldn't be. For agents who aren't using technology, this is going to be really difficult to keep on top of.
Common compliance mistakes to look out for
Source and proof of funds is a big one. As a society we're a bit uncomfortable asking people about money, but asking how much a buyer has and where it's from has to be done. Agents can feel like it's too invasive to ask questions about money, but they're subject to the same regulations as mortgage brokers and have to do this due diligence.
Can automation make compliance easier for agents?
In 2023, it's essential for agents to consider technology. Over the last three years agents have been so busy. To then have a fragmented process of doing checks on different platforms or a mix of automation and manual is a real burden. Having a platform where you have a seamless process from A to Z all in one place saves so much time and compliance is taken care of every step of the way. Time is money in an Estate Agency after all. There's been talk that the market will slow down this year and if that is the case agents will need more time to find new business, so need to be spending less time on manual processes that could be successfully automated.
Top tips to help agents succeed at compliance in 2023
Louis said: "Firstly, stand your ground when you're sourcing proof of funds. Estate agents have the legal backing and legitimate purpose to be asking. Next, keep a record of everything when enhanced due diligence is needed. HMRC put a lot of emphasis on your risk-based approach, so if you make sure you're documenting everything you're doing, then if they see someone did flag as a PEP for example, they can see what you did and why you continued with them. Lastly, embrace technology. It saves so much time and tightens compliance. We chat with HMRC on a regular basis and they are very much in favour of technology. Yes a cost comes with it but the amount of time it saves means it pays for itself. Plus the cost if agents get compliance wrong will be a lot higher."
Emma added: "Knowledgeable Reporting Officers and Deputies can make all the difference in helping you to meet your AML obligations. Invest time in training them and be sure to let everyone in your business know who they are and how to contact them. Refresh training twice a year and keep your policy up to date, then circulate your policy when changes are made.
"Secondly, a significant number of HMRC penalties in 2021 and 2022 were due to failings to register for HMRC Money Laundering Supervision within in the required time. The penalties were in the thousands. If you are not sure if you are registered, or if you should be, visit the Gov.uk website to find out.
"Finally, you can use technology to provide information about clients you may not find yourself, or not without having to spend extra time looking into. There are services that not only provide Risk Assessments and help with business checks, but take due diligence to the next level by alerting to adverse events, PEPs, Sanctions, invalid documents and whether the client is who they say they are. The saving to your business in terms of time and reducing risk really are worth the spend."
For more industry insights like this, read the latest edition of iamproperty's thought-leading industry magazine Tech of a Life.
---
Proptech and Property News in association with Estate Agent Networking.
Andrew Stanton is the founder and CEO of Proptech-PR, a consultancy for Founders of Proptechs looking to grow and exit, using his influence from decades of industry experience. Separately he is a consultant to some of the biggest names in global real estate, advising on sales and acquisitions, market positioning, and operations. He is also the founder and editor of Proptech-X Proptech & Property News, where his insights, connections and detailed analysis and commentary on proptech and real estate are second to none.