Third consecutive price record & homes selling faster than ever in spring market frenzy
Source: https://www.rightmove.co.uk/news/house-price-index/
The price of property coming to market hits a new record high for the third consecutive month, up by 1.6% (+£5,537) to £360,101
Despite growing economic headwinds, the 2022 market continues to set new milestones for price and activity levels:

All regions and all market sectors reach new record price highs, for only the second time since 2007
Properties selling faster than ever, twice as quickly as in the more normal market of 2019
Last three months' price jump of over £19,000 is largest seen in any three-month period since records began
53% of properties are selling at or over the full asking price, again the highest level ever seen

The pace of price rises this year appears to be tailing off slightly as affordability constraints and economic headwinds combine:

High buyer demand for limited stock for sale suggests that while price growth may slow down, sustained price falls are unlikely
Number of transactions remains steady, with sales agreed 21% higher than the more normal 2019 market
The price of property coming to market has hit a new record high for the third consecutive month. Month-on-month prices have risen by an average of 1.6% (+£5,537), and over the last three months by £19,082. This figure is the largest three-month price increase that Rightmove has ever recorded, with high buyer demand enabling sellers to ask and achieve ever higher prices. With not enough property available on the market, sellers are able to find a buyer quicker than ever previously seen by Rightmove, and twice as quickly as in the same period in the more normal market of 2019. This momentum is despite the growing economic headwinds, though we forecast that these headwinds will slow the pace of price rises as the year progresses.
Tim Bannister, Rightmove's Director of Property Data comments: "With three new monthly price records in a row, 2022 has started with price-rise momentum even greater than during the stamp-duty-holiday-fuelled market of last year. While growing affordability constraints mean that this momentum is not sustainable for the longer term, the high demand from a large number of buyers chasing too few properties for sale has led to a spring price frenzy, a hat-trick of record price months, and the largest price increase for a three-month period Rightmove has ever recorded. The strong momentum has carried over from last year and, combined with the impetus of the spring moving season, has delivered the quickest selling market we've ever seen. The high speed of the market and competition among buyers when making an onward move will be deterring some owners from putting their homes up for sale. However, if you can secure both a quick sale and a quick purchase then it's a lot less stressful than the uncertainties of a slower market when finding a buyer for your own home can drag on for months or not happen at all. Over 125,000 new sellers have taken advantage of the great sellers' market this month, but more are needed in all areas and in all property sectors to meet high buyer demand."
Across Great Britain, and in all of Rightmove's lower, middle, and upper market sectors, properties are at new record price levels. This is only the second time since 2007 that Rightmove has measured such an event, with the previous 'full house' being earlier in this property frenzy in October of last year. The frenetic activity continues, with this month seeing properties selling faster than ever previously recorded by Rightmove. This time in 2019, the average time to sell was 67 days. It now stands at an average of just 33 days before a property is marked as sold subject to contract on Rightmove. Of course, this is an average, and some popular properties are sold within days while others that are less desirable may still take months.
This fastest-ever speed of sale means that 53% of properties that sell are now selling at or over their final advertised asking price, the highest percentage we have ever measured. Overall, our analysis shows that properties are achieving 98.9% of the final advertised asking price on average, which is also the highest percentage since our records began. However, the pace of price rises does now appear to be tailing off a little, with this month's increase of 1.6% being lower than the 1.7% and 2.3% in the previous two months. Whilst it is normal to see modest seasonal price falls in several months of the second half of the year, with stock remaining at record lows and underlying strong demand, we do not expect these falls to be any more significant than usual this year.
Bannister says: "The economic headwinds of strongly rising inflation and modestly rising interest rates are being kept at bay by the even stronger tailwind of property market momentum that has carried over from last year. 2021 saw four consecutive monthly price records from April through to July and I would not bet against that being bettered this year as we are already at three consecutive records in April. There are some early signs of an easing off from the frenetic pace of price rises, and buyer enquiries to agents are down by 16% on last year's stamp-duty frenzy. However incredibly, buyer enquiries are still 65% above the more normal market of 2019 and the number of sales agreed is up 21%. While there is growing economic uncertainty, our current market statistics show there is greater certainty that your property will sell more quickly than ever before, and likely at a record price. It can't and won't continue like this, but with the demand and supply imbalance being so out of kilter, it looks like any substantial slowdown will be gradual in coming and be a soft rather than hard landing. It seems likely that the supply/demand mismatch will remain for at least the rest of this year. Even with some economic uncertainty, where you live and your home is such a fundamental decision for people that it will remain a priority for many."
---
PRESS RELEASE: SFC Capital calls for reform to outdated aspects of SEIS as first-time funding rounds plateau post-Covid
After ten years of the Seed Enterprise Investment Scheme (SEIS), data shows Government support needs to move with the times as startups' needs change and inflation bites
26 April 2022, London: The number of first-time funding rounds into UK seed-stage startups remained flat in 2021, despite venture capital overall seeing another record year of funding, according to new research commissioned by SFC Capital. The data shows a decline in funding rounds between 2018 and 2020, and only a marginal uptick in 2021, far below the growth in later-stage venture capital. SFC Capital is therefore calling for urgent action to reinvigorate seed-stage investment and help secure the next generation of innovative businesses emerging across the UK, with SEIS at risk of becoming redundant as a funding mechanism due to startups' growing funding needs and the impact of inflation.
As funding begins to bounce back after the pandemic across many sectors, there were 1,635 first-time seed-stage deals completed in 2021, up only 1.2 per cent from 2020's deal volume of 1,615. This represents a 18 per cent decline from peak funding of 2,005 in 2018. There is a clear gap emerging between seed-stage, and later- stage funding, as the volume of investment deals of £1m+, between 2020 and 2021, jumped from £495m to £989m, almost doubling. This analysis is based on Beauhurst's data which includes every UK announced and unannounced deal.
Commenting on the current state of seed-stage funding – which SFC Capital has defied in its own performance over the past three years, in which is has deployed more funding and completed more deals than ever before – Stephen Page, founder and CEO, said:
"The simple truth is that as we emerge from the pandemic, the money flowing into new businesses through SEIS is flat. SFC Capital is at the forefront of first-time deals, and what we're seeing is that the early-stage startups with SEIS still available are, on average, asking for more than £500,000. Between May 2021 and April 2022, from the 135 funding applications we received, only 24 asked for £150,000 or less. This shows how demands have changed, and how outdated the £150,000 SEIS cap has become.
"SEIS has been with us for a decade, and has been crucial for UK innovation during that time. But startups have come on leaps and bounds and their needs have evolved, with inflation only adding to their challenges by eroding the value of their funding runway. SEIS funds collectively raised less than £25 million in the entire 2021/22 tax year – a miniscule amount compared to demand, clearly showing the supply-side problem with very early-stage capital. The current SEIS cap has clearly become a limiting factor, and if this is not addressed then startups will ignore the scheme entirely.
"If that happens, the pipeline of funding for early-stage companies is fundamentally broken and will also lead to fewer investment opportunities at the later stage, further down the line. Innovative young companies will miss out on funding as investors look for alternative opportunities without the reliefs that come with SEIS."
Introduced in 2012, the Seed Enterprise Investment Scheme (SEIS) transformed the landscape of seed-stage funding, providing the incentive (through tax relief) and convenience (through funds, launched in 2014) for many more individuals to turn themselves into early-stage investors. SEIS has helped a total of 13,800 businesses raise £1.4 billion since its inception, with the volume of first-time seed deals increasing every year from 747 (2012) to 2,005 (2018).
Dom Hallas, CEO, Coadec, said: "SEIS has been instrumental in helping to get some of the UK's best tech startups funded. But it's now out of date and with startup creation slowing it needs to be expanded to keep pace with the needs of a new generation of startups. Hopefully—amongst other changes—we will see the company allowance increased soon."
Responding to the data, SFC Capital – the UK's most active seed-stage investor – issued a call to arms to the Government to recall SEIS, focused on, increasing the amount of public money allocated to seed-stage funds and simplifying bureaucracy for early-stage fund managers:
SEIS reform – Changes should include: increasing the SEIS funding cap from £150,000 to £300,000 to bring the scheme in line with the needs of a modern startup and impact of inflation; extending the qualifying period from two years to three; relaxing state aid rules that prevent startups that secure grant funding from raising their full SEIS allowance; speeding up the approval process to prevent companies missing the deadline; increasing the investor-side cap from £100,000 to £200,000 to unleash capital that is currently going unutilised; abandoning the 2025 sunset clause.
Increase public sector investment – Public sector investment through vehicles such as British Patient Capital and British Business Investments reduces risk for private investors and exposes the Treasury to potentially significant upsides if companies succeed. While these publicly-backed funds are very active, they have comparatively little to invest at the very early stage. Making more public money available to support the growth of innovative startups would back the Government's rhetoric about "levelling up", "building back better", and creating a "science superpower".
Simplifying bureaucracy for funds – The introduction of an "approved fund" structure – such as exists with SEIS's sister scheme EIS – would significantly reduce the administrative burden on funds by enabling them to produce a single certificate per investor covering all underlying companies, where currently they are required to produce one certificate per investor per company.
Stephen Page comments further, saying: "Critics of SEIS argue that it uses taxpayers' money to de-risk investments by wealthy individuals into speculative businesses, and demand to see specific positive impacts on employment and tax receipts from these companies. This criticism misses the point. It will always be hard to calculate how much of a company's growth is specifically attributable to SEIS investment. The point is that SEIS stimulates the innovation and entrepreneurialism that help shape the economy for the demands of the future. Now more than ever, as we face up to a world defined by the impact of extraordinary recent and ongoing events – from Brexit and the Covid-19 pandemic to the war in Ukraine and the climate crisis – undermining the ability of the UK to foster innovation would be shooting ourselves in the foot."
---
PRESS RELEASE: Spike Global and Utopi join forces to help residents go green
Spike Global, the leading property management and resident engagement software provider, is pleased to announce that it has formed a strategic partnership with IoT and Data Integration SaaS provider Utopi to increase visibility and access to building performance data.
With the demand for strong ESG performance, coupled with a greater focus on creating more sustainable buildings, developers are increasingly seeking ways to reduce energy consumption and carbon emissions.
At the moment there is a lack of transparency when it comes to understanding how a building is performing, which makes it difficult to establish a baseline or monitor sustainability improvements. This new partnership will put key information into the hands of those with the power to make sustainable changes – whether that's building managers or tenants themselves.
Through the use of specialist smart devices and API integrations, some of which were developed in-house, Utopi is able to collect live and actionable data from managed residential accommodation. This data is then available real-time via the UtopiConnect software platform, which can be integrated with other cloud-based products such as Spike Global's market-leading resident engagement portal, Spike Living.
By partnering with Utopi, Spike's clients will have the opportunity to understand their building's performance and identify areas for improvement. In addition, the information can empower individual residents living in that development to reduce their carbon footprint and energy consumption by prompting them to reduce their impact, and enabling them to compare their performance with other anonymised residents within their building.
Developers and operators will also be able to use this data to set targets for reduction in consumption and spot outliers and poor performing residents, allowing them to offer advice and support. This leads to vast improvements in ESG scoring, and could also support the introduction of fair usage policies to counter ever-increasing energy costs.
Speaking of the partnership, Utopi's Co-Founder & CMO, Ben Roberts, commented: "We have been very keen to get the building data we collect into the hands of the residents for a while, we know it has a major impact on a building's sustainability performance, as the residents are the ones in control of their consumption. Partnering with Spike was a no-brainer and the integration of the two platforms was seamless. We are really looking forward to inspiring communities to take action against the climate crisis."
Speaking of the partnership, Spike Global's CEO, Jeremy Heath-Smith, commented: "Our clients are increasingly concerned about the climate emergency and not only need to understand their building's performance but want to use that information to actively engage and encourage residents to reduce their CO2 output and energy consumption. By partnering with Utopi, we will be able to make this information readily available via our Spike Living portal, encouraging everyone to make a positive change."
Spike Global will be exhibiting at this year's UKAA BTR Expo being held on 28 April at the London Design Centre, where attendees will be able to learn more about the new partnership with Utopi.
---
PRESS RELEASE: Blockchain Home Registry Launches to Usher in the Web3 Future of Homeownership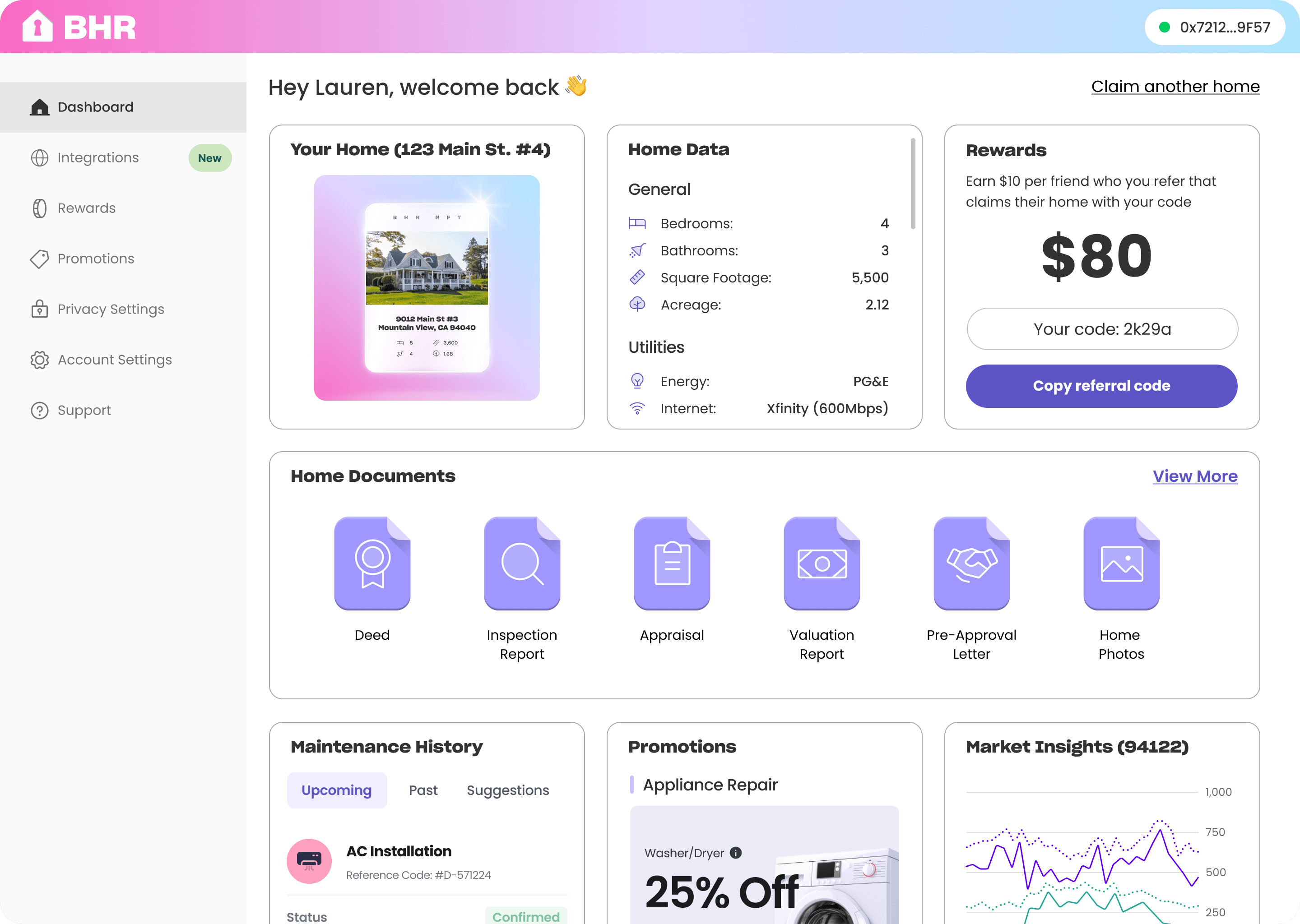 VC-backed Torii Homes launches Blockchain Home Registry, a collaborative Web3 standard and platform for homeowners and the entire real estate industry.
Blockchain Home Registry (BHR) launched today to usher in a new era of collaborative innovation in the real estate industry powered by Web3 technology. BHR is a decentralized finance (DeFi) standard and platform that allows homeowners to claim a verified non-fungible token (NFT) of their property, giving them privacy-controlled access to a permanent, transferrable historical record of their home. New data (ownership history, maintenance/renovation records, solar potential, etc.) is added to every property on BHR by integrating organizations across the real estate ecosystem, allowing homeowners to learn more about their home over time. Both homeowners and organizations can monetize the data they each add on their own terms.
BHR is spearheaded by the team at Torii, the fast-growing venture-backed real estate technology company. "We're thrilled to bring Web3 technology to the entire real estate industry, providing a collaborative standard for all stakeholders, while keeping homeowners at the center of it all. They own their homes, so they should own their data, as well," said James Rogers, CEO of Torii.
The more data that is added to the BHR network, the more homeowners will learn about their most significant asset. This will lead more owners to claim, thereby encouraging even more integrations to be built. "The real estate industry has always been highly fragmented and overly protectionist. It's time for that to change, and BHR creates a really powerful flywheel effect to achieve that where everybody involved wins," noted Rogers.
Integrations will range from title companies sharing rich historical data with homeowners, to insurance providers streamlining their underwriting process, to lenders building toward a one-click approval process. "The possibilities for innovations on top of BHR are truly endless. Each day we hear about new ideas from organizations that want to be a part of the system, and to help the industry modernize," added Rogers. "We look forward to collaborating with all of the incredible companies and teams out there trying to make it easier to buy, sell, and own homes." BHR is available now for all homes in the US, and eventually will be rolled out globally.
Andrew Stanton is the founder and CEO of Proptech-PR, a consultancy for Founders of Proptechs looking to grow and exit, using his influence from decades of industry experience. Separately he is a consultant to some of the biggest names in global real estate, advising on sales and acquisitions, market positioning, and operations. He is also the founder and editor of Proptech-X Proptech & Property News, where his insights, connections and detailed analysis and commentary on proptech and real estate are second to none.