LettsPay appoints Gary Barker as Non-Executive Director
LettsPay, an automated client accounting engine, has announced today that senior proptech figure, Gary Barker has been appointed as a Non-Executive Director (NED) of the business. While Barker is now based in South Africa working as the CEO of the Technology arm of BetterHome, the country's largest mortgage broking company, he will be offering strategic support to the LettsPay team here in the UK.
Garrett Foxon, Founder of LettsPay, says: "We are delighted to have Gary join the business as a NED. His wealth of knowledge within the proptech sector will be an asset to the business as we continue to grow and develop our service offering. As the first automated end-to-end client accounting engine to utilise digital accounts, LettsPay has the potential to revolutionise the lettings sector when it comes to rental collection and landlord payments. We believe our automated lettings management platform is a pioneering proptech tool, with Gary's input and expertise, we will continue to look at ways that we can push innovation and further enhance our offering to the sector."
Working within the proptech sector for over 20 years, Barker was responsible for driving vision, overall direction and strategy of The Reapit Group, a property software provider of CRM and property management specialising in the residential property sector. As a member of the management team since 2007, Barker's leadership and insight helped Reapit to become the market-leading platform that it is today. Since Reapit, Barker continues to be a key player within the proptech sector, assisting many businesses at a strategic level to accelerate development. He is also an NED at nurtur.group, working within the Accelerator Programme team, an arm of the organisation looking to invest in proptech products such as LettsPay, benefitting both the innovators creating the products, as well as the network of agents within the group.
"The CMP and legislative requirements are ever increasing and LettsPay ensures that agents can stay fully compliant, automate their processes, and allow them to carry out value added services."

Gary Barker
Gary Barker, NED of nurtur.group, says "I am delighted to be joining the board of LettsPay supporting the investment that the Accelerator has made in this necessary technology. The CMP and legislative requirements are ever increasing and LettsPay ensures that agents can stay fully compliant, automate their processes, and allow them to carry out value added services. I am keen to help LettsPay integrate with the current industry CRM providers and grow their customer base to provide a seamless payment solution for agents."
According to Foxon, Barker has already been instrumental in the business' growth, selecting LettsPay as the first investment deal concluded through the Accelerator Programme established by nurtur.group.
Barker adds: "As part of the team heading the Accelerator Programme, I saw first-hand the amazing technology solutions that LettsPay are providing to agents within the lettings sector. I am glad that the partnership with nurtur.group has already been so beneficial to the business, and I am excited about taking my involvement with the LettsPay to the next level."
---
National Association of Property Buyers: New Prime Minister urged to relax planning laws and to address archaic rules on stamp duty
PRESS RELEASE: THE UK's leading property group has urged the new Prime Minister to address Britain's housing crisis calling for "radical change".
The National Association of Property Buyers (NAPB) says there is now growing fears of a rapid slowdown in a market which is "teetering on the brink".
And the NAPB added that many in the industry feel dismayed at the fact we are likely to now see the 21st different Housing Minister unveiled since 1997.
Spokesman Jonathan Rolande said the sector required stability in its leadership and needed widespread reform to help the soaring numbers of people unable to buy or rent a property.
Mr Rolande said: "We must see the supply of property increase by empowering smaller builders with easier routes to get planning. Stamp Duty is archaic and needs a re-think which would increase fairness and free up off market property – give pensioners a zero band when they move downmarket for example.
"The Government should also look at increasing tax breaks for companies opening in areas where cheap housing is plentiful to take some strain off the south east. The new PM must be bold. The property market underpins everything we take for granted in this country and it needs help after years of imbalance, short-term ideas and mis-placed billions in subsidies. It needs radical change and that will take radical thinking. I hope our new Prime Minister has the vision to do this but time will tell."
Mr Rolande said there was now a growing fear of a "rapid slowdown" in the market which is being fuelled by uncertainty and instability.
"Part of the problem here is we are facing the announcement of yet another new Housing Minister – our 21st since 1997," he added.
"Will they push through the flawed idea to sell off our last remaining Housing Association stock and streamline the planning process to build more homes? Perhaps. Or might they be a little kinder to landlords in the private rental sector? Let's hope so.
Many are keen to exit the market thanks to new regulation and the relatively poor financial return on buy to let.
"But let's be frank. Unless inflation in general, and particularly that in the energy sector is addressed, the property market, currently teetering on the edge of a rapid slow down may well be pushed over the edge. Rising interest rates and thousands a year out of buyer's pockets will make many hesitate. And that's where things can turn very nasty, for years. If prices are perceived to be about to fall it becomes a self-fulfilling prophecy.
"Many may rejoice, thinking it will allow them to at last buy a home. But in reality, a poor property market actually limits choices as only those who have to, will sell and borrowing rules will become so harsh, mortgages will be impossible to get for many.
"So as the new tenant of No.10 moves in it must be energy inflation that is the first priority. Once that is stabilised, I hope that there will be no more subsidies that inflate prices – Help to Buy has, after all, helped huge house building firms to boost their profits with hard-earned tax payer money."
---
Ownerly Named Task Management Solution of the Year in the 2022 PropTech Breakthrough Awards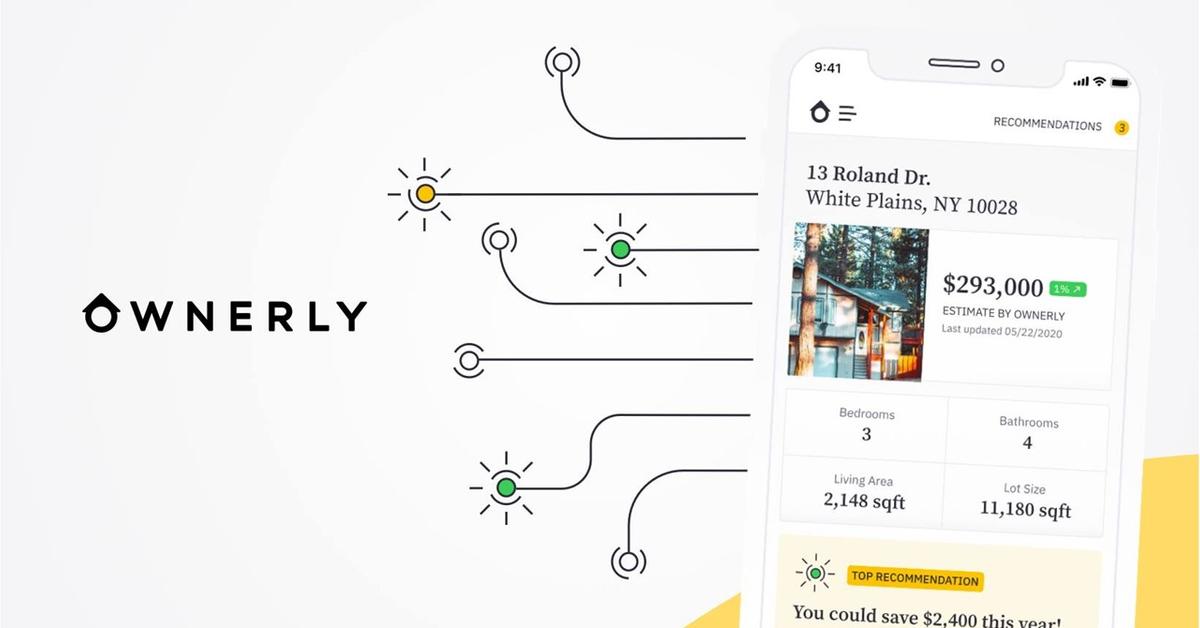 PRESS RELEASE: Ownerly, a leading home valuation company and homeowner resource, has been announced as the winner of Task Management Solution of the Year from PropTech Breakthrough Awards, an organization focused on the digital transformation of the property and real estate markets and part of the Tech Breakthrough organization.
With more than over 1,500 nominations worldwide for this year's PropTech Breakthrough Awards program, Ownerly joins an impressive list of winning top companies and startups in the PropTech industry, including Rocket Mortgage, OpenDoor, Appfolio, Brivo, Cherre, Curbio, Doma and others.
"We're honored to be recognized as the Task Management Solution of the Year," said Gabe Douek, general manager of Ownerly. "Giving homeowners easy access to relevant information about their property is our top priority, so we're excited to see the impact our ever-evolving improvements have had for homeowners who come to our platform for data they need."
In addition to its homeowner offerings, Ownerly publishes content related to real estate, mortgages, home insurance and home improvement. Ownerly has become a one-stop resource for homeowners, providing property-specific analytics and data, tips and advice for homeowners and exclusive savings and perks for its users.
Besides PropTech, the Tech Breakthrough organization provides market intelligence, research and recognition programs in today's more competitive categories of tech—specifically, Internet-of-Things, Artificial Intelligence, Mobile & Wireless, Digital Health & Medical Technologies, FinTech and CyberSecurity.
---
GETAGENT.CO.UK: Homesellers sitting tight as stock levels drop
GetAgent.co.uk looks at the latest hot and trending markets. Source: GetAgent.co.uk
Latest data has revealed which postcodes are currently ranking as the nation's home selling hotspots. Findings show that the average number of homes listed for sale per estate agency branch across Britain have dropped.
Our data looks at the average number of properties listed for sale per branch in every postcode across Britain this year, observing the level of 'for sale' stock and how this has changed since 2021.
We have found that, across Britain, the pandemic property market boom has started to subside. So far in 2022, there has been an average of 7.3 homes listed per estate agent branch across Britain – a -12.5% drop compared to the 2021 average of 8.4 homes.
Which areas have seen the largest reduction in market activity?
The Exeter postcode of EX38 has witnessed the largest reduction in market activity, with just one home listed for sale per agency branch versus 14.3 in 2021 – a massive 93% drop.
Other areas to have seen a drop in listing levels include the LL15 postcode of Denbighshire – with a 92% drop so far in 2022. This is equal to just 1.7 listings per branch versus the 22.7 that were seen in 2021.
There have also been reductions in the ST13 postcode in Staffordshire (-89%), IV36 in Moray (-87.8%) and YO43 in the East Riding of Yorkshire (-83.9%).
While there has been a massive reduction in property listings, some agents are still feeling the heat of the pandemic boom.
What areas have seen an increase in listings?
While many areas have seen a drop in listings, other postcodes throughout the nation have experienced an increase. The BB5 postcode of Hyndburn has seen a 635.6% increase, with the average listing being at 12.8 homes per branch.
In the Vale of White Horse, the average branch in the SN7 postcode has experienced a whopping 430.9% increase.
Other areas to have seen a largest increase in listings per agent branch include, the G65 postcode in North Lanarkshire (+351.%), S18 in North East Derbyshire (+338%) and South Ayrshire's KA26 postcode (+300%).
A clear reduction in market activity – GetAgent CEO Colby Short
"We're starting to see strong signs that the heightened levels of market activity driven by the nation's homebuyers is now starting to subside ever so slightly, most notably by way of a reduction in mortgage approvals.
"As our analysis shows, there has also been a reduction in market activity on the side of the nation's sellers so far this year, with available stock levels dwindling quite significantly in some areas.
"Of course, with the market already suffering from a drought of its own with respect to available stock, a further reduction should ensure that the scales of supply and demand remain out of balance. As a result, property values are likely to remain robust despite the wider pressure of a cost of living crisis."
To view the data, visit GetAgent.co.uk
Andrew Stanton is the founder and CEO of Proptech-PR, a consultancy for Founders of Proptechs looking to grow and exit, using his influence from decades of industry experience. Separately he is a consultant to some of the biggest names in global real estate, advising on sales and acquisitions, market positioning, and operations. He is also the founder and editor of Proptech-X Proptech & Property News, where his insights, connections and detailed analysis and commentary on proptech and real estate are second to none.