The Market Corrects: Prices Cool as Supply Increases
Headlines
Asking prices across England and Wales have dipped slightly since August (by 0.4%), bringing the year-on-year rise to 4.6%, consistent with both seasonal expectations and typical price adjustments in the wake of a rapid surge.
Good news for buyers as the total stock of property for sale in England and Wales ticked up again, albeit more strongly this month. However, it will take perhaps a year before total stock reaches what might be considered normal.
No slowdown is evident as the Typical Time on Market (median) for unsold property remains unchanged at 65 days, 17 days less than in September 2021, indicating that properties continue to move through the market at a near-record pace.
Supply of new instructions continues the upward trend, albeit from a very low base. Record-high prices are, as expected, encouraging more vendors to enter the market. 17% more properties were placed on the market last month compared to August 2021.
The North West and Welsh property markets now lead in annualised regional price growth (both +7.9%), ahead of the previous leader, the South West (+7.6%).
Meanwhile, monetary inflation increased further to 14.4% (RPI ex. housing), making current real growth around -10% year-on-year and, perhaps more importantly, the real mortgage interest rate around -11%.
Spectacular hikes in Greater London rents continue. Demand is completely overwhelming supply of available properties, driving annualised rental growth to a shocking 29.2%.
Central London rents have risen by far the fastest over the last twelve months and continue to do so, led by Hackney (+48%), Lambeth (+44%) and Islington (+43%) boroughs.
Asking rent growth across the UK currently stands at an astonishing 21.8% year-on-year as rents rise in every English region, Scotland and Wales.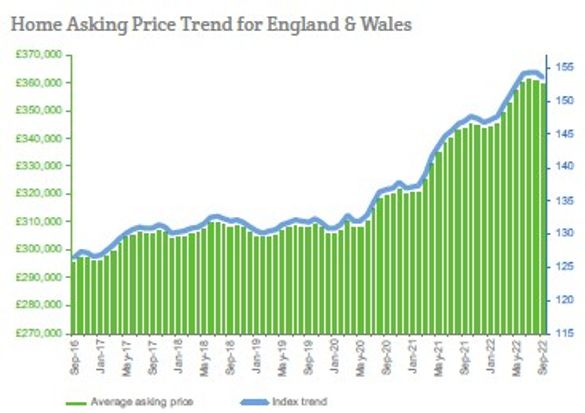 The UK property market continues to show significant momentum, according to Home.co.uk's Asking Price Index for September.
Frothy valuations are being dialled back as the post-lockdown buying frenzy fades away. Stock levels are recovering in all regions except London, where renewed demand is gobbling up properties faster than agents can put them on the market.
Higher nominal mortgage rates appear not to be deterring buyers and this is understandable when, owing to inflation, real mortgage lending rates are highly negative. Of course, real home price growth is also negative by a growing margin.
The property drought is over, and a greater sense of normalcy prevails. However, property continues to move through the market at an exceptional pace. The average time on the market for unsold property is now at the lowest it has been since the financial crisis of 2008 (144 days in England and Wales).
­­­Moreover, the turnover rate for properties passing through the market has recovered vastly from the low set in January when stock levels hit a record low. This measure of the number of properties passing through the market per day, which may be regarded as the 'pulse of the market,' has nearly doubled since the January low of 1163 properties per day to the current rate of 2075. This latest measure is broadly approaching the longer-term average for the UK property market.
For more information visit here.
---
Aldermore: Over 70% of first-time buyers delay buying a home
Research from Aldermore shows that on average prospective first-time buyers are planning to save £43,500 for a deposit.
In a survey of 2000 FTBs, 72% said they were to delay buying their first home, due in part to the current cost-of-living crisis and rising inflation.
51% of FTBs are using a savings account, though many are holding savings in low interest accounts, with 44% using current accounts.
Alarmingly, despite its relative volatility, around 8% claim they are using cryptocurrency to save for a deposit.
Nearly two-thirds of first time buyers (64%) are saving less towards a deposit and 19% have chosen to search for a cheaper property for their first purchase.
Jon Cooper, head of mortgage distribution at Aldermore, said: "While saving in this current economic climate may feel like a long and arduous journey, we've found that the majority of determined first-time buyers think the difficulties are ultimately worth it in order to get on the property ladder.
"It's important that prospective buyers are aware of the support available to them. Would-be buyers should consider seeking advice from a broker who can lend a helping hand and guide you through the process of becoming a homeowner."
---
Landbay cuts rates on BTL properties

Landbay has announced that it has slashed two-year fixed buy to let property rates for HMOs, multi-unit freehold blocks and standard properties, as follows:
Small HMO, 2 year 75% LTV fixed reduced from 5.19% to 4.89%
Standard property: 2 year, 75% LTV fixed reduced from 4.99% to 4.89%
Standard property, 2 year 80% LTV fixed reduced from 5.29% to 5.09%
Small multi-unit freehold blocks, 2 year 75% LTV fixed reduced from 5.19% to 4.89%
Paul Brett, managing director of intermediaries at Landbay, said: "Our wide and diverse range of funding enables us to reduce our rates for borrowers when most rates from other lenders continue to rise.
"With the Bank of England widely expected to raise base rate again later this week, we recognise that this is a really important time for landlords and property investors to lock into a lower-cost fixed-rate deal.
"This rate reduction on our two-year fixed-rate range will enable investors to remove some of the volatility from their costs, providing an element of certainty at this crucial and uncertain time."
---
RVA Surveyors: Will the government's fiscal statement soften business rates shock?
PRESS RELEASE: On Friday 23rd September, Chancellor Kwai Kwarteng is expected to reveal a 'fiscal statement' – in effect, a small budget expected to outline further tax cuts. It is also speculated that Kwarteng will reveal the estimated cost of the government plans to cap energy costs, for both domestic and commercial properties.
Business owners and leaders across the country will be hoping that this fiscal statement will include more information about the expected business rates hike in the next revaluation (from the 1st of April 2023). Business rates are set at each revaluation for a period of time known as a rating list. The current rating list, running from the 1st of April 2017 until the 31st of March 2023, was extended due to the pandemic in an attempt to ease the burden on businesses.
While the announcement of the next rating list changing to a period of just three years has already circulated, there is much speculation still as to just how much business rates will rise. Experts have widely predicted that business rates will rise by up to 12% – over £2 billion is the expected amount. This rates hike, in which the Valuation Office Agency's (VOA) ballpark figure will be announced in the coming weeks, is another blow on top of increasing overheads, and decreasing help from the government.
Declining help from government another blow to businesses
In response to the pandemic, the government brought in a covid relief package for businesses across the UK. This £1.5 billion package was distributed to the affected businesses, at the discretion of local councils. A move that saw a very uneven delivery – with a predicted third of all businesses that applied for the covid business rates relief, received no help at all.
With the covid relief set to end in all but a few councils, business owners must turn to other avenues to seek help. Given that many other reliefs have also ended, it is no surprise that business owners and leaders are struggling to create savings in a notoriously outdated tax system.
Anthony Hughes, Managing Director of the business rates reduction specialist RVA Surveyors, said: "Business rates has seen an upwards-only trend for years, and we need to see from this fiscal statement from the Chancellor must contain effective pathways to help businesses manage the expected business rates hike. The government must step up and start delivering support, as well as building confidence in British businesses."
Andrew Stanton is the founder and CEO of Proptech-PR, a consultancy for Founders of Proptechs looking to grow and exit, using his influence from decades of industry experience. Separately he is a consultant to some of the biggest names in global real estate, advising on sales and acquisitions, market positioning, and operations. He is also the founder and editor of Proptech-X Proptech & Property News, where his insights, connections and detailed analysis and commentary on proptech and real estate are second to none.