Hounslow Co-Living Project Backed By £18.1m Maslow Capital Loan
PRESS RELEASE: Yari Investments has secured an £18.1m loan from development finance lender Maslow Capital, for the construction of 121 state-of-the-art co-living units in Hounslow.
This innovative project in High Street, Feltham is set to transform the way young professionals experience city living in the borough.
The borrower, who was introduced to Maslow Capital by Brotherton Real Estate, plans to hold and operate the units as long-term investment.
Boasting an excellent location within walking distance of a gym and a retail centre, the property is surrounded by several new build developments and sits within an established residential area. With excellent transport links, including Feltham train station just a short 3-minute walk away and direct access to London's city centre via Southwestern Railway, the property is perfectly positioned for professionals working in and around the city.
The co-living units, which have been designed with young professionals in mind, are set to be completed by MY Construction Limited, a highly respected main contracting firm with over 200 successful construction contracts within their portfolio. Utilising modular construction techniques and their own offsite production facility, MY Construction aims to deliver a development that is not only of the highest quality, but also environmentally friendly, with all units being prefabricated in the UK using steel frames and double insulation.
Co-living at its finest, these units offer residents their own private studio complete with bedroom and bathroom, while also providing shared communal spaces such as lounge, kitchen, dining areas, and co-working space. This unique concept fosters a sense of community within the building and encourages socialising between households.
With over 60% of the local population able to afford the rent of a unit at the property, the co-living development will not only be stylish and modern, but also highly affordable for the local demographic. Maslow Capital's successful completion of this development loan is a testament to the strength of the borrower's business plan and the demand for high-quality, affordable housing in the area.
Nir Zamek, Owner and Director at Yari Investments Limited, said: "We are thrilled to have received the support of Maslow Capital in bringing this exciting co-living development to fruition. Their expertise in development finance has been invaluable in helping us bring our vision to life, and we can't wait to welcome young professionals to this fantastic property."
Sky Mapson, Deal Origination at Maslow Capital, said "We are pleased to have been able to support this innovative project, which we believe will be a valuable addition to the housing market in London. Yari Investment's strong business plan and London's high demand for co-living housing made this a compelling opportunity for us, and we are confident that the completed development will be a great success."
Rachel Gordon, Head of Deal Execution at Maslow Capital, said: "This project exemplifies Maslow Capital's commitment to supporting the development of high-quality, innovative housing solutions in the UK. The use of modular construction techniques in this project not only allows for faster, more efficient building, but also enables our borrower to deliver a development that is more environmentally friendly. We are pleased to support the use of such innovative methods and believe they will play a key role in the future."
---
---
New Census Data Highlights Shifting Student Accommodation Preferences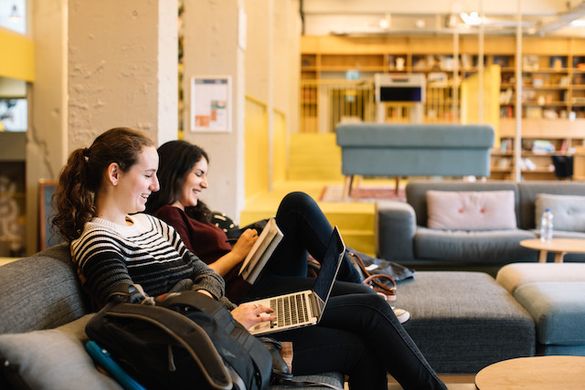 Number of 16-24-year-olds living in communal establishments jumps 16.7%
Student enrollments grow by 9.9% over same period
Housing Hand analysis shows increase in demand for lifestyle-focused communal living
PRESS RELEASE: Newly released Census data show a jump of 16.7% in the number of 16-24-year-olds living in communal establishments between 2011 to 2021. While it might be easy to assume this is simply down to growth in student numbers, figures from the Higher Education Statistics Agency (HESA) tell a different story.
Student numbers have certainly risen over the past decade. The number of student enrolments, including both undergraduates and postgraduates, has increased from 2,503,010 students in 2010/11 to 2,751,865 in 2020/21. But that growth stands at 9.9%, meaning that it is a higher proportion of the student body now living in community establishments, not just a higher number.
"The new Census figures reflect students' increasing preference for communal establishments. We have seen demand grow over the past decade, particularly for purpose-built student accommodation that offers student renters a more lifestyle-focused approach to their accommodation." Graham Hayward, Chief Operating Officer, Housing Hand.
In terms of the bigger picture, there are a number of problems on the not-too-distant horizon. According to StuRents, the UK is on track to face a shortfall of around 450,000 student beds by 2025, based on the firm's analysis of the number of new beds likely to be delivered by that time, compared to growing student numbers.
A range of rapidly shifting factors are also making the situation more complex, according to UK rental guarantor service Housing Hand. CEO Graham Hayward points out that the UK was the first major international education centre to recover from Covid, with competition in Australia and the US lagging behind in recovery terms. This has driven higher short-term popularity in the UK for overseas applicants for university places – a large proportion of whom seek out communal establishments such as halls or purpose-built student accommodation (PBSA) to meet their housing needs.
 "Following a couple of years during which universities courted UK-based students more strenuously, due to international travel disruption, the accommodation sector is left racing to catch up with this renewed attention from overseas applicants. It makes sense from a funding perspective, as international students pay higher fees, but there is still also potential for disruption. Let's not forget that China, which is beaten only by India in terms of the number of students being sent to the UK, is still facing significant Covid challenges." Graham Hayward, Chief Operating Officer, Housing Hand.
Another hangover from the pandemic is disruption to the supply of new homes in the PBSA sector. Supply chain disruption was felt across the construction sector in terms of timelines, while global factors have also driven up the price of materials. With landlords of houses in multiple occupation (HMOs) in the UK rapidly shutting up shop due to changes in legislation, this is creating a major headache in terms of the supply of student homes.
 "The student accommodation market is having to respond dynamically to a whole host of shifting factors at present. Universities are looking at ways to make the student experience more accessible to international applicants, such as partnering with Housing Hand to remove barriers to renting in the private rental sector, to maximise their higher fee potential. Some universities are also working with accommodation providers who are further away from campus, with arrangements in place to cover transportation costs in the short-term. We've seen this happen in Bristol, York, Edinburgh, Glasgow, Durham and various other UK towns and cities." James Maguire, Head of Sales and Business Development, Housing Hand.
The cost-of-living crisis has thrown a further spanner in the works, leading an increasing number of young people to question the value of obtaining a degree. Many are exploring the potential of apprenticeship degrees instead, where they can work and learn at the same time. They can develop workplace skills and experience while gaining their qualification, along with a more-than-likely guaranteed job at the end of the process – and without saddling themselves with tens of thousands of pounds' worth of debt.
 "The result of all this is pressure on all those concerned – on universities, accommodation providers and individual students and their families. University halls, PBSA providers, HMOs and landlords in the private rented sector will all play a key role in the future of the UK's student housing sector. In light of the current economic pressures, so too will guarantors. It's a complex situation." James Maguire, Head of Sales and Business Development, Housing Hand.
---
Proptech and Property News in association with Estate Agent Networking.
Andrew Stanton is the founder and CEO of Proptech-PR, a consultancy for Founders of Proptechs looking to grow and exit, using his influence from decades of industry experience. Separately he is a consultant to some of the biggest names in global real estate, advising on sales and acquisitions, market positioning, and operations. He is also the founder and editor of Proptech-X Proptech & Property News, where his insights, connections and detailed analysis and commentary on proptech and real estate are second to none.