Nearly Two-Thirds of Renters 'Concerned' or 'Strongly Concerned' About Increasing Interest Rates
PRESS RELEASE: With 52.75% of landlords having said they'll raise rents when interest rates reach their predicted peak of 4.5% this summer  – it's not surprising that over 60% of renters are concerned about the impact of rising interest rates. 
According to a recent survey of 1,001 UK renters by Finbri, with interest rates rising, 62.54% of renters express concern or strong concern about how this could affect their monthly rental payments. Additionally, 19.38% of renters have already experienced unaffordable rent increases, alongside several other issues while renting a property.
As Stephen Clark, from Finbri, a specialist property finance broker, comments, "The growing concern about interest rates and the prospect of increased monthly rent is not unwarranted.
Many renters have already been struggling to make ends meet even with the current interest rates, so understandably, they are worried about how an increase in interest could affect them. But landlords are also in a tough position. If their monthly mortgage payments on their BTL property increase as a result of rising rates, this additional cost needs to be covered.
"The private rental market is vital in the broader UK housing market and the relationship between landlords and renters is more symbiotic than ever before."
How much have rents recently increased?
Renters are being hit hard as monthly rental prices are growing at the fastest annual rate for more than a decade.
According to the Office for National Statistics, private rental prices paid by UK tenants rose 4.2% in 2022.
Outside of London, asking rents have increased by more than 3% over the past three months, according to Rightmove.
The average monthly rent outside of London is £1,162, while it's £2,343 in London, where rents have increased by 16% in the past year.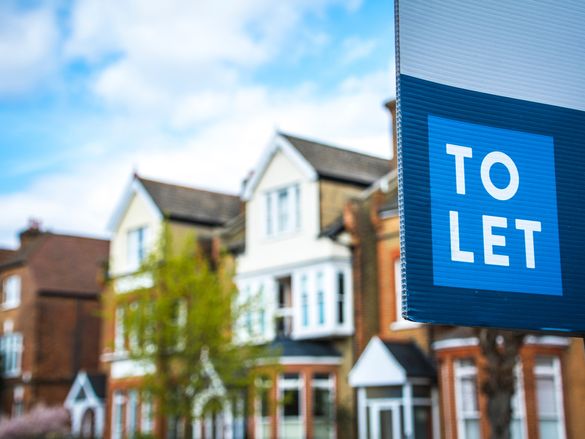 How can renters prepare for a potential rate rise?
Monthly rental costs have become a deep concern for tenants. 73.93% of UK renters are Strongly concerned (36.86%) or Concerned (37.06%) about rent increases. To help alleviate some of these concerns, or prepare for the prospect of rent increases, we have compiled a list of tips for renters to consider when planning their future finances and budgeting.
Contacting landlord: If renters are concerned about the potential impact of rising interest rates, it could be beneficial to have an open and honest conversation with their landlord – explain the situation and inquire about their intentions ahead of potential rate increases.
Research options: As costs rise, it's important for renters to be aware of their alternative options. There may be other rental properties available that are more affordable, or it may even make more sense to move to a different area if your current location is becoming too expensive. Research the rental market to see what other properties are available and how they compare with your current rental costs.
Start budgeting now: Renters should review their outgoings and develop a budget today to help prepare for the potential rent increases. This can include cutting back on non-essential expenses, setting up an emergency fund, and seeking ways to increase income.
What to do if your rent is increased and now unaffordable?
If you're facing unaffordable rent increases due to rising interest rates, taking the necessary steps to protect yourself is essential.
The landlord must supply a section 13 notice if they want to increase the rent. Only tenants with assured shorthold or assured tenancies can receive section 13 notices. If you have any other kind of tenancy, you shouldn't accept a section 13 notice.
A section 13 notice shouldn't be sent to you if:
Your leasing agreement already stipulates that your rent will go up; for instance, if it has a "rent review provision"
Your tenancy is fixed-term
Further information can be found at Citizens Advice. If you receive a section 13 notice and think the rent increase is unaffordable, you can dispute it. You can do this by writing to your landlord or agent and stating why the rent increase is unreasonable.
You may also be able to challenge the rent increase if you think it's unfair by going to a tribunal – for example, if the increase is higher than similar rented properties in the area. Finally, if the rent increase is deemed unaffordable, you may be eligible for housing benefits or Universal Credit to help cover the extra cost.
If you decide to leave the property, you should check your tenancy agreement to ensure you fulfill all contractual obligations. You may also be entitled to compensation for any losses incurred due to the rent increase.
Final thoughts
Rising interest rates are a cause for concern for many renters, as they can lead to unaffordable rent increases. Renters must research their options and proactively prepare for these changes. Speak to your landlord, review your financial situation, and look for other rental options. Ultimately, you must be aware of your rights and the support available if you face unaffordable rent increases.
The private rental market is vital as it provides accommodation for those unable to get on the property ladder and landlords with an income. But with increasing rates, landlords are under significant pressure, with many looking to leave the market altogether. Renters are experiencing anxiety and fears over rent increases. During these uncertain times for the UK rental market, landlords and tenants must work together to navigate the current climate.
---
---
Yopa announces this year's top 10 commuter hotspots for people travelling into London
PRESS RELEASE: It's official. award-wining estate agent Yopa has named Woking as the top London commuter hotspot in its interactive 2023 London Commuter Guide.
The short commute time (just 26 minutes to London Waterloo), a high number of top performing primary and secondary schools, and lower crime rates resulted in the Surrey town securing the title best commuter town for those looking to escape the chaos of the capital.
Reading, Slough, Luton and St Albans made the top five for a combination of season ticket prices, train times into London, average house prices, and local crime rates. Maidenhead, Stevenage, Hemel Hempstead, Milton Keynes, and Letchworth all place in the top ten.
The London Commuter Guide was created by Yopa to help Londoners who are considering moving out of town to identify the most affordable and accessible places to buy a home, without having to sacrifice their jobs and salaries. Users can explore the interactive map to discover how well their town ranks.
The updated guide is particularly relevant as commuters will have seen an average 5.9% hike in rail fares as of the 5th March, bringing trainlines and commuting times back into the headlines. Even with this rise in commuting costs, which the guide takes into account, Yopa's tool shows that moving away from the city can ensure you get more for your money.
Analysis of multiple other economic and quality of life metrics, including proximity to outstanding schools, number of trains per day and average local salaries, have been used to determine the best places to live for those who wish to enjoy the benefits of the home counties whilst retaining their London lifestyle.
Isaac Bull, London's Divisional Franchise Director at Yopa commented:
"Since the first lockdown back in 2020, and the increase in remote working, we have definitely seen a change in buyer's behaviours in and around London. Lots of people have opted to move further out of London to take advantage of being able to get significantly more for your money down one of the many commuter routes in the suburbs. Buyers have typically sold their smaller flats closer to the City and traded up for a larger house with gardens. This has meant a longer commute for some when they do have to work from the office but most are happy with compromise".
However, we may begin to see the trend reverse. Isaac also comments that: "There is starting to be more and cases of late though, where some feel that commute is just too much and they miss the hustle and bustle of living in zones 1 and 2. This has caused a return of many buyers who are keener to be within a 15-20 min from home into the office. This has been a positive step for sellers of smaller properties in zones 1 and 2."
Jonathan Moss, Divisional Franchise Director for the South East ended with:
"Woking boasts an extensive range of amenities, lots of outdoor spaces which are perfect for dog owner walkers and running. You can stroll in areas of outstanding natural beauty such as RHS Garden Wisley or find yourself on a stretch of the Basingstoke Canal. Woking is an idyllic location for a family, and you can be in London in next to no time".  
Top ten UK commuter towns (according to the Yopa 2023 London Commuter Guide):
1. Woking, Surrey
2. Reading, Berkshire
3. Slough, Berkshire
4. Luton, Bedfordshire
5. St Albans, Hertfordshire
6. Maidenhead, Berkshire
7. Stevenage, Hertfordshire
8. Hemel Hempstead, Hertfordshire
9. Milton Keynes, Buckinghamshire
10. Letchworth, Hertfordshire
---
Proptech and Property News in association with Estate Agent Networking.
Andrew Stanton is the founder and CEO of Proptech-PR, a consultancy for Founders of Proptechs looking to grow and exit, using his influence from decades of industry experience. Separately he is a consultant to some of the biggest names in global real estate, advising on sales and acquisitions, market positioning, and operations. He is also the founder and editor of Proptech-X Proptech & Property News, where his insights, connections and detailed analysis and commentary on proptech and real estate are second to none.