With the Rise in Repossessions, an Expert Has Shared His Advice on the Best Way to Manage the Situation if It Were to Occur
PRESS RELEASE: Repossessions are not heading for the levels seen during the 2008 crash, a property expert who deals with the issue has said.
New figures reveal repossessions doubled in the last three months of 2022, raising fears more mortgage holders could lose their homes.
The data released by the Ministry of Justice showed repossessions by county court bailiffs across England and Wales rose from 313 to 733 between October and December last year – a spike of 134 per cent.
At the same time the figures showed a similar trend for tenants with landlord repossessions jumping from 2,729 to 5,409 – a rise of 98 per cent.
But despite the rising levels Jonathan Rolande, from property firm House Buy Fast, who specialise in supporting people who face losing their home, said: "Despite these stark figures there are reasons to be more hopeful we're not returning to the bad old days of mass repossession which we saw in 1991 and 2008. 
"Given the combined effects of a pandemic, rate hikes, the cost of living crisis and more, it is surprising repossessions in 2022 were not far higher."
---
---
Prices Stabilising and Stock Levels Heading Back to Normal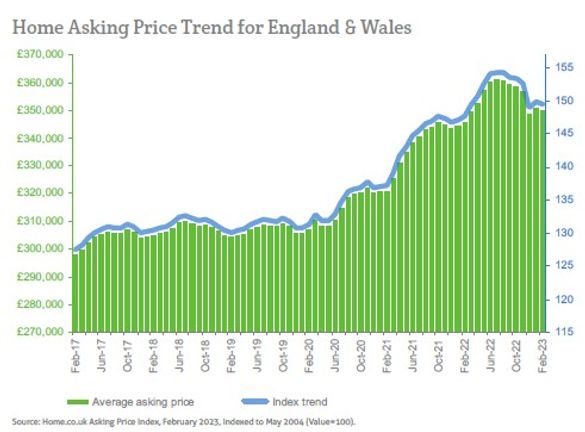 PRESS RELEASE: UK home prices adapted quickly to higher mortgage rates during the latter part of 2022 and look set to stabilise over the coming months, according to Home.co.uk's Asking Price Index for February.
The 0.2% dip in asking prices during January may well have already factored in this month's further hike in the Bank of England base rate, which was widely anticipated. Further minor adjustments in asking prices may follow depending on the strength of demand, which typically increases in the spring months.
Stock levels are also recovering following the unprecedented buying frenzy that occurred in 2021 and early 2022, but as yet remain below the 10-year average despite significant recent additions. Marketing times are also returning to pre-COVID levels, further indicating a return to more normal market conditions. The current Typical Time on Market for unsold property has increased swiftly over recent months to 100 days, but this figure is 16 days less than in February 2020.
The vital signs of the market are reassuring and counter the doom and gloom forecasts trumpeted by institutions and pundits that should know better. After all, real mortgage rates are still highly negative and this provides an unprecedented tailwind for the sales market. Moreover, the chronic housing shortage (both rental and sales) has not gone away. If anything, it has worsened due to supply chain problems and higher financing costs for builders.
The doomsters conveniently ignore two key factors, namely the vibrant rental market and a lack of oversupply in the sales market. The number of properties withdrawn from the sales market has been significant over recent months. Many of these will have been channelled into the rental market, which seemingly has an insatiable appetite for new stock and strong returns. This method of monetising unsold stock may therefore be regarded as a pressure release valve for the sales market should an excess of inventory become an issue.
The vital signs of the Greater London market are looking particularly encouraging. In stark contrast with the rest of the country, the capital did not benefit from the COVID boom. On the contrary, London suffered a serious slump in both sales and rentals. The rental market was the first to recover as tenants returned post-lockdown, resulting in spiralling rents and vastly improving yields.
Now the sales market looks set to show growth, given the very modest supply of new instructions, falling stock since November last year and, importantly, a Typical Time on Market that remains lower than in February 2022. Added to that, the median price of a flat remains 15% lower than it was in 2016, so there's plenty of room for capital gains.
Monetary inflation may have reduced slightly over the last two months but it remains exceedingly high. The latest hike in the Bank of England base rate may well be the last for a while. Meanwhile, mortgage rates have headed in the opposite direction with deals of 4% becoming plentiful (a clear indication that lenders expect the base rate to fall).
We therefore look set to enjoy negative real mortgage rates for the rest of this year (perhaps longer) and this unprecedented situation will serve to support prices strongly. Home prices, therefore, look set to fall in real terms but not in terms of pounds and pence.
The annualised mix-adjusted average asking price growth across England and Wales is now 1.3%; in February 2022, the annualised rate of increase of home prices was 7.7%.
---
Proptech and Property News in association with Estate Agent Networking.
Andrew Stanton is the founder and CEO of Proptech-PR, a consultancy for Founders of Proptechs looking to grow and exit, using his influence from decades of industry experience. Separately he is a consultant to some of the biggest names in global real estate, advising on sales and acquisitions, market positioning, and operations. He is also the founder and editor of Proptech-X Proptech & Property News, where his insights, connections and detailed analysis and commentary on proptech and real estate are second to none.