NTSELAT publishes guidance on material information for listings
The National Trading Standards Estate and Letting Agency Team (NTSELAT) has published new guidance to help agents ensure they are meeting their requirements under Part A of the process to improve material information in property listings.
The guidance has been developed in partnership with industry leaders and the UK's major property portals, including Rightmove, Zoopla, OnTheMarket and PropertyPal.The guidance can be found on a new, dedicated webpage on the National Trading Standards (NTS) website,which will include all key documents published by NTSELAT as part of its material information work.
Part A of this three-phase process covers information considered material for all properties, including:
the property price/rental price
the council tax band (or property rates information in Northern Ireland)
tenure information (for sales).
The property portals have been working to include new data fields on their sites, many of which are now in place. If these new fields are left empty by an agent, this is flagged on the listing so consumers can see what information is missing. In many cases, the fields also include a link to advice for consumers as to why that information is important and how to find it.
James Munro, Senior Manager of the National Trading Standards Estate and Letting Agency Team, said:
"For years, agents have been calling for clarity around the disclosure of material information and it's brilliant to see the property industry coming together to deliver a better service for consumers looking to buy or rent a home. I'm particularly grateful to the portals for their commitment and efforts to get Part A off the ground and I hope the new guidance will help them as they support agents to make the required information available."
In its White Paper, Levelling Up the United Kingdom*, published earlier this year, the Department for Levelling Up, Housing and Communities reiterated the importance of this process and signalled that the case for legislation would be kept under review.
A Government spokesperson said:
"The Government is committed to working with the property sector to improve the home buying and selling process; supporting our mission to level up the country and create a fair housing system that works for everyone. We intend to set out our plans for the future of home buying and selling in due course, including improving the quality of upfront information available to buyers, and driving digitalisation of the residential property sector. We see this work led by NTSELAT as key to helping us drive this agenda."
The list of material information required for Part A was announced in February this year and a further two phases are being developed. Part B will include information which must be established for all properties, such as utilities (and similar) where non-standard features would affect someone's decision to look any further at that property. Part C will be additional material information which may nor may not need to be established, depending on whether the property is affected or impacted by the information.
The updated list of required Part A information can be found here. All important information about the phased changes being introduced on property portals is now available on the NTS website.
---
---
Thirty-One Percent of Property Sales Falling Through Before Completion as Lenders Get Tougher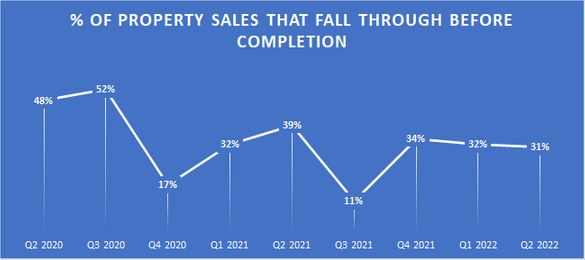 Thirty-one percent of property sales fell through before completion in the second quarter of the year, according to new figures from Quick Move Now.
Of the sales that collapsed, 30 percent failed due to buyers being refused funds by mortgage companies. This suggests growing caution from lenders.
Danny Luke, Quick Move Now's managing director, says: "It's unusual, in this day and age, for buyers to have an offer accepted on a property without having an agreement in principle in place with their mortgage lender. This would suggest that the 30 percent of failed sales attributed to difficulty securing a mortgage are due to buyers being turned down during the formal mortgage application process after initially securing an agreement in principle. This indicates that underwriters are getting tougher in the level of risk they're willing to accept, both in terms of buyer circumstances and finances, and properties they're prepared to lend on.
"Overall, the fall through rate has remained stable throughout the first half of this year, falling just one percent between the first and second quarter, but the reasons for failed sales tell an evolving story about the challenges currently being faced by the property market. We've already touched on the 30 percent of failed sales attributed to difficulty securing lending, but it seems it's not just lenders who are showing growing caution. An extraordinary 50 percent of failed sales were attributed to the buyer changing their mind, pulling out in favour of another property, or pulling out after an unfavourable survey report.
"Growing inflation and cost of living have made it inevitable that both lenders and buyers would start to show greater caution. We have also seen delays in the conveyancing process that are resulting in an increasing number of buyers being required to apply for extensions to their mortgage offers. Those that were initially offered a mortgage may find that they're unable to secure an extension to their offer, even if their circumstances haven't changed. With lending criteria toughening up, difficulty securing mortgage finance is an issue that I suspect we will see much more of in the coming months."
The remaining 20 percent of failed sales were attributed to gazumping (where the seller pulls out of the sale in favour of a higher offer from another buyer) and changes in the buyers' circumstances that mean they're unable to continue with the purchase.
Andrew Stanton is the founder and CEO of Proptech-PR, a consultancy for Founders of Proptechs looking to grow and exit, using his influence from decades of industry experience. Separately he is a consultant to some of the biggest names in global real estate, advising on sales and acquisitions, market positioning, and operations. He is also the founder and editor of Proptech-X Proptech & Property News, where his insights, connections and detailed analysis and commentary on proptech and real estate are second to none.