MyIdentity selects Armalytix to create a proof-of-wealth solution for the property market
Armalytix, the open banking technology platform which streamlines the collection of data for the professional and financial services industries, has been selected to be an attribute provider for the government-backed MyIdentity scheme, helping to create a digital record of identification and source of funds.
The scheme has been launched to bring together trusted UK identity providers who are working towards certification in line with government standards, aiming to make home buying and selling a quicker and more secure process for consumers.
With property and mortgage fraud increasing exponentially during the pandemic, and the Land Registry paying out £3.5million in compensation for fraud-related cases in 2021 alone – up from £2million in 2020 – the UK government has recognised the need to accelerate the digitalisation of identity checks to help combat this.
Tom Lyes, Head of Legal and Property at Armalytix said: "We're excited to be joining forces with MyIdentity, as the only source of funds provider on the scheme. Our vision for a form free future is shared by MyIdentity and through this partnership, we are creating a one-stop-shop for anyone looking to buy a house. As the property market is rife with money laundering and fraud risks, it's crucial that we can create a safer and more intelligent future for those in the house buying process.
"Through our partnership with MyIdentity, we're able to give consumers more control over sharing their details and ensure that the sharing of financial information can be a safe and smooth process."
Stuart Young, managing director and founder of MyIdentity, commented: "The MyIdentity scheme creates a standard digital method of identity verification across the home buying and selling process, reducing the number of times consumers are asked to confirm their identity.
"We recognised that, firstly due to the Covid-19 lockdowns, and now with horror stories such as people having their houses sold without their knowledge, it was important that consumers could create a secure, digital identity certification that could be shared easily with those involved in the house purchasing process, including estate agents, conveyancers, lawyers, financial advisors and mortgage providers.
"We're excited to partner with Armalytix to provide consumers with a platform to get any paperwork they might need, digitally."
MyIdentity is taking part in the FCA Sandbox, which presents a chance for businesses to test innovative propositions in the market with real consumers and is expected to run until December 2022.
Armalytix is on a mission to create a form free future, revolutionising client experience and liberating organisations and individuals from the costs, risks, and hassle of unnecessary admin. Utilising open banking technology to streamline the collection of data for the professional and financial services industries, Armalytix reduces the time and effort spent gathering, verifying, and analysing data, reducing the compliance and reputational risk associated with data collection.
Etive is a digital identity and property data technology company which has been working in identity since 2014 and which led on the Digital Identity Trust Scheme for the Home Buying and Selling Sector project from November 2020 to April 2021, whilst setting the parameters of what is required for a trust scheme.
---
PRESS RELEASE: Google opens Bay View Campus in Silicon Valley
First campus developed by Google and largest to pursue multiple green building certifications
MOUNTAIN VIEW, CA (May 18, 2022) — Google has announced the opening of its new Bay View campus in Silicon Valley, representing the company's first time developing its own major campus.
The Bay View campus was designed by architects Bjarke Ingels Group (BIG) and Heatherwick Studio, as well as Google's design and engineering teams, and spans 42 acres adjacent to the NASA's Ames Research Center in Silicon Valley. It totals 1.1 million square feet, with 20 acres of open space, two office buildings, an 1,000-person event center, and 240 short-term employee accommodation units.
The interior of the buildings reemphasize Google's vision for the future of work, designed in response to its understanding of why Google's employees come to the office, what they need from their teammates, and what they need from the company.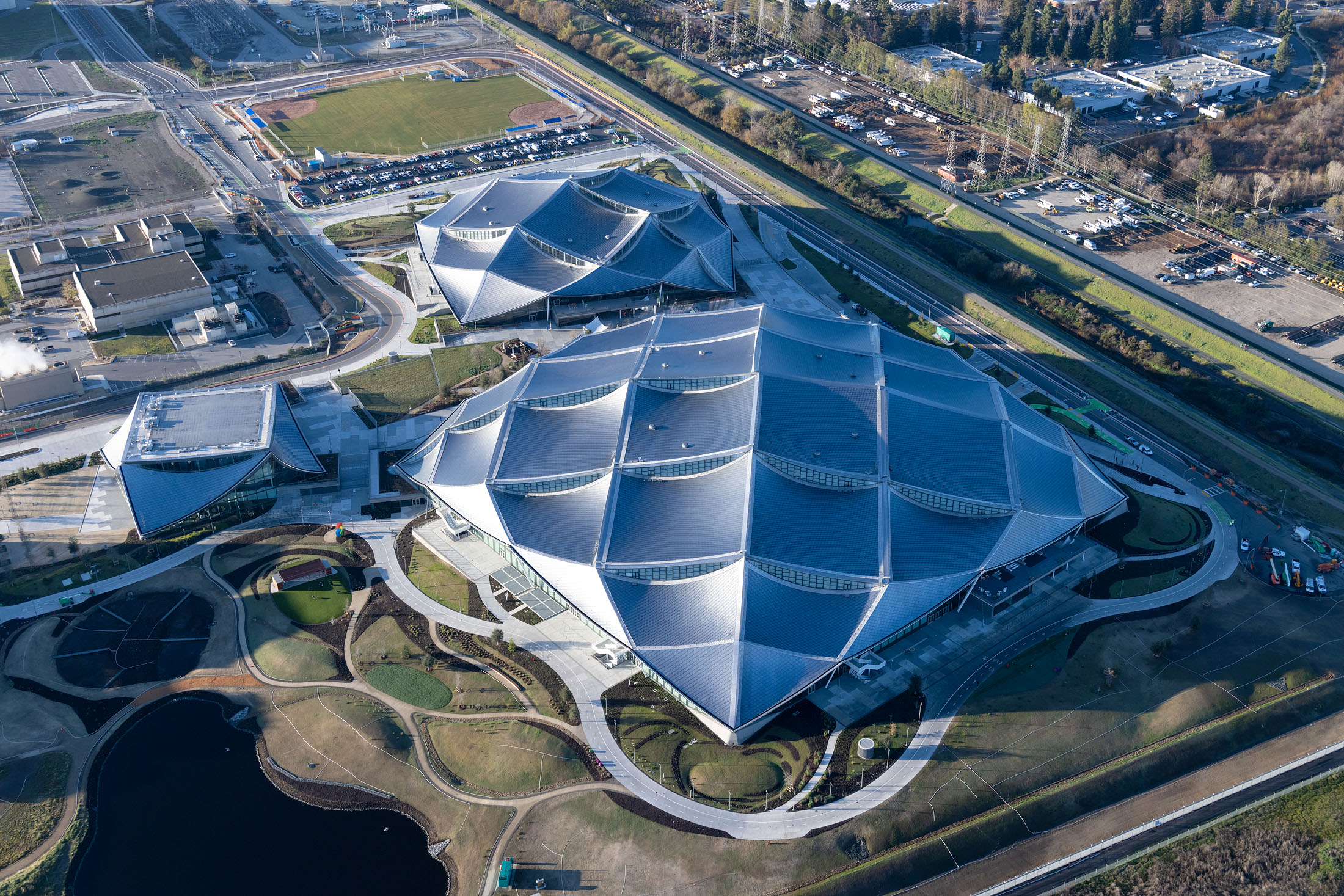 For those coming into the office, it was designed to balance Googlers' desire to come together as teams with the need for an environment that enables deep-focus work. Team spaces are on the upper level and gathering spaces are below, separating focus and collaborative areas while still providing easy access to both. The second floor design has variation in floorplates to give teams a designated "neighborhood" area that is highly flexible to change with their needs.
Features include:
The campus incorporates biophilic design principles, including greenery, natural daylight and views outside from every desk to improve the health and wellbeing of those inside the building. Clerestory windows modulate direct light onto desks with automated window shades that open and close over the course of the day.
The ventilation system uses 100% outside air. This means air flows one way, so there is no recycled air, which is much healthier for occupants.
To remove toxins and create the healthiest environment possible, the project team vetted thousands of building products and materials — everything from carpet tiles, paints, piping, plywood and furniture were evaluated using the Living Building Challenge (LBC) Red List as a framework.
Nine pieces of artworks from local Bay Area artists are on and around the nine massive two-story elevators. Not only do they depict Bay Area ecology scenes, but they also help with wayfinding in the building.
Sustainability is also core to the Bay View campus. The site is expected to achieve a LEED-NC v4 Platinum certification and become the largest facility ever to attain the International Living Future Institute (ILFI) LBC Water Petal Certification.
Features include:
The integrated geothermal pile system, which is the largest in North America, is estimated to reduce carbon emissions by roughly 50% and will help both heat and cool the campus. The massive geoexchange field is integrated into the structural system, reducing the amount of water typically used for cooling by 90%, equal to five million gallons of water annually.
To help deliver on its commitment to operate every hour of every day on carbon-free energy by 2030, the first-of-its-kind dragonscale solar skin, as well as nearby wind farms, will power Bay View on carbon-free energy 90% of the time.
Bay View is 100% electric where even the kitchens are electric to decrease carbon emissions.
To help deliver on its commitment to replenish 120% of the water it consumes by 2030, the site is net water-positive with all non-potable water demands being met using the recycled water it generates on site. A series of above-ground ponds gather rainwater, combined with a building wastewater treatment system, together serve as a water source for cooling towers, flushing toilets, and landscape irrigation.
The campus includes 7.3 acres of high-value natural areas – including wet meadows, woodlands, and marsh – that contribute to Google's broader efforts to reestablish missing essential habitat in the Bay Area.
Local residents can also benefit from the opening of the Bay View campus, including public access to expanded trails with panoramic views of the Bay, improved bike connections to Stevens Creek and Bay trails, and expanded car lanes and new bike lanes with the widening of R.T. Jones Road.
Andrew Stanton is the founder and CEO of Proptech-PR, a consultancy for Founders of Proptechs looking to grow and exit, using his influence from decades of industry experience. Separately he is a consultant to some of the biggest names in global real estate, advising on sales and acquisitions, market positioning, and operations. He is also the founder and editor of Proptech-X Proptech & Property News, where his insights, connections and detailed analysis and commentary on proptech and real estate are second to none.