Landlords and Renters on the Same Page With EPC
PRESS RELEASE: New research completed by Finbri has discovered 47.55% of UK landlords think EPC ratings are 'Very or Extremely important' when buying an investment property. With the current energy costs, the research findings demonstrate the importance of the EPC rating and energy efficiency in the UK rental market.
A recent survey of over 1,000 UK landlords found that 47.55% think Energy Performance Certificates (EPC) ratings are 'Very or Extremely important' when buying an investment property, while further research found that 31.57% of renters consider EPC ratings to be 'Important' when choosing their current rental property, and a further 28.57% believe the ratings to be Very important (18.28%) or Extremely important (10.29%).
As Stephen Clark, from property bridging loan broker Finbri, comments, "The government's ongoing effort to modernise privately rented housing as a means of achieving its "net zero" objective by the year 2050 includes the requirement that properties become more energy efficient. With rising energy costs, efficiency is more important than ever for current and prospective tenants, and investors understand this with buyers paying an average of 15.5% more for a home that complies with high energy efficiency standards."
Landlords improving the energy efficiency of their properties will help to drive up standards across the housing sector as a whole. The research conducted by Finbri has identified the growing significance and understanding of an improved EPC rating, with 48.05% of landlords intending to complete EPC improvement-related works to investment properties in the next 12 months.
What changes are coming in 2023?
In accordance with the government's Minimum Energy Efficiency Standard (MEES), all privately leased homes in England and Wales must have an EPC rating of "C" or higher as of 2025, with similar changes coming into effect in 2028 to include all tenancies.
According to figures from the Department for Levelling Up, Housing, and Communities, nearly 14 million households in England and Wales (approximately 59% of domestic properties) have an EPC rating of D to G, with G being the lowest possible rating. So there is much work to be done to reach the 2025 target.
Given that landlords would face financial penalties for breaking these new rules, it is imperative that investors and landlords understand and act upon the requirement as those who fail to comply can be fined up to £30,000.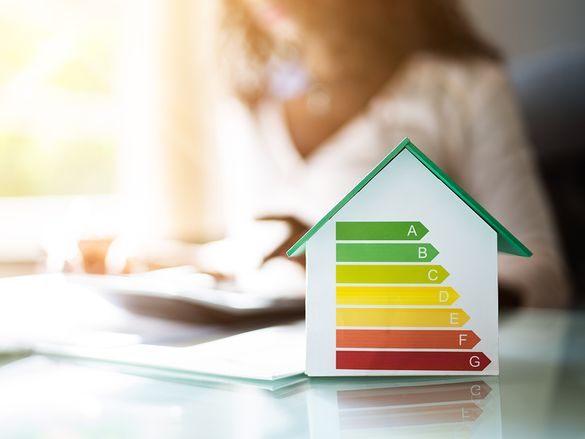 EPC ratings are becoming increasingly important
The UK is currently facing a cost-of-living crisis, tenants are increasingly concerned about their future energy and gas costs. This is why EPC ratings are becoming more important for both landlords and renters alike – with over 48% of landlords planning to upgrade their properties' energy efficiency in the next 12 months.
47.55% of UK landlords think EPC ratings are 'Very or Extremely important' when buying an investment property, with 47.95% believing EPC ratings are 'Very or Extremely important' to their tenants.
At the same time, 31.57% of renters consider EPC ratings to be 'Important' when choosing their current rental property, with an additional 28.57% believing EPC ratings to be 'Very or Extremely important'.
This indicates that both landlords and tenants are, for the most part, on the same page regarding the importance of EPC ratings and the need for energy-related property improvements. In order to encourage this, landlords should be incentivised to carry out energy improvements, as this could help both parties save money in the long run.
How to increase the energy efficiency of your property:
As a landlord, the following improvements will increase property efficiency:
Installing a new condensing boiler – increases efficiency by 34%
Wall insulation – 25%
Roof/loft insulation – 25%
Replace windows – 25%
Replace doors – 20%
Add floor insulation – 15%
Depending on the property, these modifications will cost different amounts, with the cost to raise the EPC rating from a band D or below to at least a C expected to be roughly £9,260.
However, you can raise the value of your property by making additional improvements above the required C rating. Energy-efficient homes command an average 9.4% premium from buyers. An average increase of £26,600, or more than twice as much as the typical £10,000 cost of energy-efficient property improvements, is applied to the average UK property price of £283,000.
Are further changes expected in the near future?
2025 and 2028 are predicted to bring about additional developments.
By 2025, all rental homes must receive a band "C" energy performance certificate rating, and by 2028, this will apply to all tenancies. By reducing carbon emissions and improving energy efficiency, this new EPC legislation seeks to help the government reach its net-zero carbon target by 2050. The ultimate objective is to have non-domestic buildings meet a minimum B-grade energy efficiency requirement by 2030.
When the regulations are changed in 2025, the fine for not having an EPC that is valid and is a "C" or higher will rise from £5,000 to £30,000.
Final thoughts
The energy crisis has thrown EPC ratings into the spotlight and its importance has become clear. Landlords must take action now to ensure they meet the required standards. The introduction of stricter regulations in the near future will mean landlords must invest in energy efficiency upgrades now or risk expensive fines. Not only will this help landlords to avoid hefty fines, but it will also help them to secure better rental yields and increase the value of their properties whilst also helping their tenants.
---
---
NAPB Comments on Payment Meter Scandal
Commenting on the decision by Ofgem, which has ordered British Gas to stop force-fitting prepayment meters, the National Association of Property Buyers said last night.
"The sorry story of utility providers that was uncovered by The Times newspaper investigation highlights the potential injustices faced by many people in financial difficulty.  The NAPB welcomes the fact that the company concerned has held their hands up and that Ofgem will be taking action to address the issue.
Spokesman Jonathan Rolande continued: "There is still a question to answer though. How, as a society do we deal with a situation where a householder has missed numerous payments and received letters and calls offering help, all to no avail?
"With heat, light and water being such basic human essentials, at what point are the companies allowed to disconnect? If allowed to continue unchallenged the lost revenue would inevitably be passed on to other paying customers – would that be fair? The providers are companies, should they carry the cost of unpaid bills alone?
"But the case in favour of the utility providers is seriously undermined by the huge profits made and massive salaries paid to executives – their pay is often counted in millions and there is no public sympathy for their cause.
"For now it is a relief that the intrusive practises of forced or tricked entry will be gone, but there are business and moral dilemmas for the companies, government and the public that will need to be addressed to ensure that the burden of unpaid bills doesn't fall on those who are struggling but paying."
---
Proptech and Property News in association with Estate Agent Networking.
Andrew Stanton is the founder and CEO of Proptech-PR, a consultancy for Founders of Proptechs looking to grow and exit, using his influence from decades of industry experience. Separately he is a consultant to some of the biggest names in global real estate, advising on sales and acquisitions, market positioning, and operations. He is also the founder and editor of Proptech-X Proptech & Property News, where his insights, connections and detailed analysis and commentary on proptech and real estate are second to none.