NAPB: House price crash predicted by many looks increasingly unlikely
PRESS RELEASE: The house price crash many predicted before Christmas is now highly unlikely to happen, a leading property association has claimed. 
There were widespread fears only weeks ago that the sector faced being decimated over the coming months.
But the National Association of Property Buyers say these fears now seem to be misguided.
Spokesman Jonathan Rolande said: "Although the outlook for 2023 in terms of house prices is far from rosy, the price crash, much feared by many, and wished for by a few, seems increasingly unlikely to happen.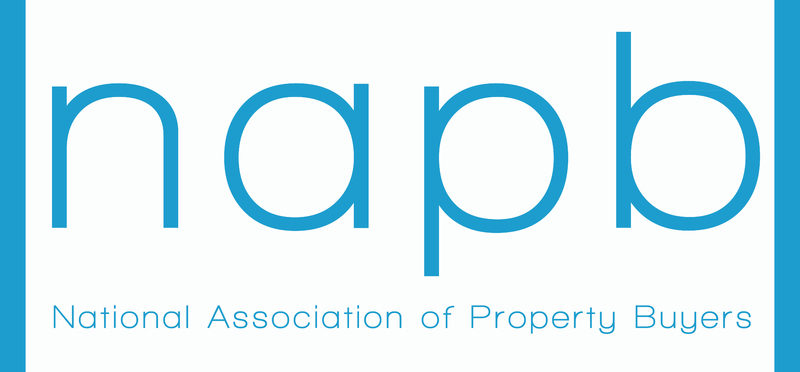 "It is almost certain that prices will continue to fall during the first three to six months of the year. But, if the economic and political landscape remains relatively stable, we may see a slight recovery in the second half of the year, meaning we could end 2023 with prices back around where they were at the beginning of 2022.
"We need to be clear, we are not yet on safe ground. The market still has a long way to go before it steadies and even longer before prices begin to lift again. And those waiting for the bounce will need to be patient."
Explaining why he felt the market has the potential to bounce back he continued: "There are a number of factors at play here. Rocketing interest rates, a cost of living crisis, a pandemic, and mortgage products are being withdrawn. The list goes on and yet we have not seen a price freefall. Rates have increased but not to levels that crippled borrowers, even though they were very unwelcome especially as other household costs were rising too.
"With most people on a fixed rate loan, the effect was diluted – we didn't see all mortgages shooting up in price overnight. The reduction in long-term rates has helped too, they are still much higher than a year ago but a downward trajectory breeds consumer and lender confidence."
Mr Rolande added: "Lenders have held their nerve too. Thanks to lower percentage lending for the last decade or so, their exposure to risk is lower than it was in previous dips meaning the risk of repossession is far less.
"The general shortage of available property, exacerbated by the suspension of construction work during the pandemic, the frenzy to buy holiday homes and let property means that despite suppressed demand, there is still a chronic shortage of property – that will shore up prices."
---
---
More Than One-in-Three Property Sales Fell Through in Turbulent Year for UK Housing Market
PRESS RELEASE: 2022 was a mixed year for the property market – from record high asking prices, to mortgage market chaos and steeply rising interest rates – so it's little surprise that the fall through figures reflect a high level of uncertainty.
 Of the sales that failed in 2022, 37.3 per cent were caused by the buyer changing their mind and pulling out. A further 23.7 per cent of failed sales collapsed because the buyer was unable to secure a mortgage, or experienced a change in circumstances that meant they were no longer able to commit to the purchase.

Danny Luke, managing director at property firm Quick Move Now, explains: "2022 was a strange year for the property market. Many experts predicted that we would begin to see a cooling of prices, but few could have predicted the mortgage market chaos caused by Truss and Kwarteng's mini budget or the speed at which the market would change. We were already seeing reduced affordability, as a result of rising inflation and a 'cost of living' crisis, before steeply rising mortgage interest rates added hundreds of pounds to thousands of people's monthly mortgage repayments. We spoke to one buyer who was forced to pull out of a sale shortly after Kwarteng's mini budget. The day after his mortgage valuation, his mortgage product was one of hundreds withdrawn from the market as a reaction to the uncertainty. He was offered a new mortgage product, but at an interest rate 3.25 per cent higher than his original product, he was no longer confident in his ability to afford the monthly repayments.  This is a story that was repeated many times up and down the country.
"When we look at fall through rates, we analyse monthly, quarterly, and year-to-date figures. The quarterly figures for the last three months of 2022 tell an interesting story.
"The fall through rate for the fourth quarter was 37.7 per cent, which was just over two per cent lower than in the third quarter. However, the quarter was very much split in terms of trends. In October and November, the fall through rate was high (41.2 per cent and 52.6 per cent respectively), as we witnessed the fallout from a great deal of political uncertainty, reduced affordability, and fears about falling house prices. However, in December we saw the fall through rate drop to just 17.6 per cent. By this point, the volume of property transactions had fallen dramatically, leaving just serious, committed buyers who were financially resilient and confident enough to continue with their purchase despite the turbulent and uncertain market conditions.
"Over the next 12 months, sale numbers are expected to continue to be comparatively low, but I'm confident that the market will settle into a new 'normal' rather than grinding to a holt. There are still those with a strong need to move and a shortage of properties coming to the market. Prices and volumes may be lower, but the market is resilient."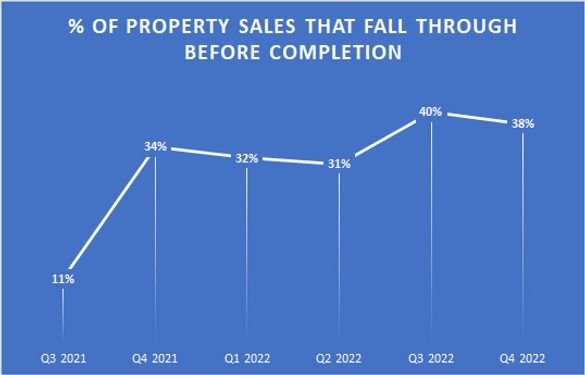 For anyone concerned about a property sale, Danny has some advice.
"The way we buy and sell properties has remained largely unchanged for several decades and, unfortunately, in the current system failed property sales will continue to be an issue.
"If you're keen to maximise the chances of your property sale reaching a positive conclusion, there are several steps you can take.
"Firstly, make sure you choose a great team to work with. Hold-ups in the sale process are a significant cause of failed sales, so it's important that you choose an estate agent and conveyancer who will actively manage the sale through to completion and be proactive in resolving any issues that present themselves along the way.
"You should also try to minimise the length of any property chain. The longer the property chain, the more vulnerable your sale is to collapse. You can either try to reduce chain length by who you sell to, or by adapting your onward plans. In a seller's market, you can be picky about who you sell to and choose a buyer who has little or no chain. In the current market, things are a little more tricky. If you want to attract buyers and improve your chances of a quick and simple sale, you may want to consider moving into rental accommodation rather than buying again straight away. This will reduce your chain when you're selling and again when you come to buy your next property, which will ultimately increase your chances of a successful move.
"It's also important, in the current market, that sellers are willing to negotiate. The market is changeable and buyer confidence is low. Should your buyer's survey identify any issues, or property prices fall further, you may need to be ready to renegotiate on price to keep the sale on-track.
"Finally, if your buyer pulls out and you're worried about losing your next home, you might want to consider other options. Property auction and chain-break solutions from cash home buying companies can be utilised to stop a sale falling through, but there are pros and cons to both of these options, so it's important to research any alternatives thoroughly."
---
Proptech and Property News in association with Estate Agent Networking.
Andrew Stanton is the founder and CEO of Proptech-PR, a consultancy for Founders of Proptechs looking to grow and exit, using his influence from decades of industry experience. Separately he is a consultant to some of the biggest names in global real estate, advising on sales and acquisitions, market positioning, and operations. He is also the founder and editor of Proptech-X Proptech & Property News, where his insights, connections and detailed analysis and commentary on proptech and real estate are second to none.