All Indicators Suggest Return to More Normal Market Conditions
The UK property market has seemingly brushed aside the recent rise in the cost of mortgage lending and shows no major sign of a slowdown, according to Home.co.uk's Asking Price Index for August.
Seasonality indicates that prices typically peak in July and this is consistent with more normal market conditions.
Typical Time on Market has been edging up from the record low set in April but remains very low by historic standards. Stock levels are also recovering from an acute record low set in January 2022 but remain much lower than the 5-year average. Monthly supply of new instructions shows an increase of 9% overall as record prices encourage more vendors, with the greatest increase being in the South West (where prices have risen the most over the last 12 months).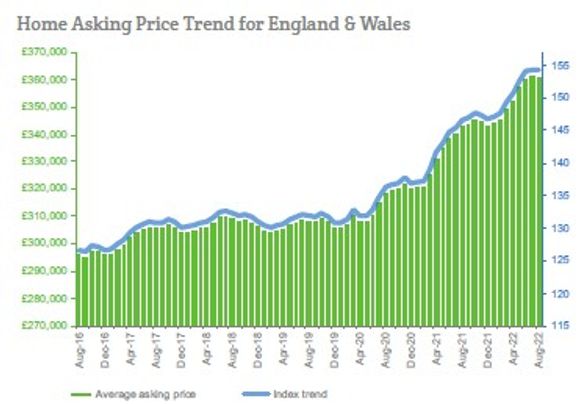 Therefore, the expected recovery in sales stock is steadily occurring, along with a return to more normal market conditions following the buying frenzy last year that was triggered by artificial stimuli, but the same cannot be said of the rental sector. In fact, the number of properties available for rent is in decline overall (down 27% over the last 12 months). This is due mainly to the steep decline in Greater London which is down by 51% over the same period. The effect of this lettings drought on Greater London rents is plain to be seen with annualised hikes averaging 25.9%, but much higher than that in the more central boroughs.
Given that rental yields are rising, we expect demand for UK property to remain high and perhaps rise into 2023 as investors (especially corporate investors who can sidestep Capital Gain Tax more effectively) seek the relatively safe returns afforded by bricks and mortar, facilitated by negative real interest rates.
The annualised mix-adjusted average asking price growth across England and Wales is now at 5.2%; in August 2021, the annualised rate of increase of home prices was 7.6%.
Headlines
Asking prices across England and Wales show no change overall since July, bringing the year-on-year rise to 5.2%, consistent with seasonal expectations.
The total stock of property for sale in England and Wales continues to increase but remains a long way short of what might be considered normal. The stock total has been in a rising trend since the all-time low registered in January 2022.
Typical Time on Market (median) for unsold property is 65 days, which is 12 days less than in August 2021, indicating that properties continue to move through the market at a near-record pace.
Supply is up year-on-year, suggesting that record prices are tempting more vendors to commit. Nine per cent more properties were placed on the market last month compared to July 2021. Only Greater London showed no increase in supply, while the largest increase was found in the South West (up 17%).
The South West property market now leads in annualised regional price growth (+8.7%), ahead of the previous leader, Wales (+8.4%).
Meanwhile, monetary inflation increased further to 13.6% (RPI ex. housing), making real growth around -7.1% year-on-year and the real mortgage interest rate around -11%.
Greater London rent hikes continue. Demand continues to overwhelm a falling supply of available properties, pushing annualised rental growth to an astonishing 25.9%.
Central London rents have risen the fastest over the last twelve months, led by Tower Hamlets (+41%), Southwark (+39%) and Merton (+38%) boroughs.
Asking rent growth across the UK currently stands at 20.5% year-on-year as rents rise in every English region, Scotland and Wales.
---
---
"Airbnb for work" Jarvo crowdfunds £360,000 for workplace rental solution
Jarvo, a remote work platform dubbed the "Airbnb for work", has hit its Seedrs funding target in 42 seconds, taking the record from Monzo.
The platform enables people to let out unused spaces in residential properties for people who aren't able to work from home.
It took Jarvo less than a minute to raise £200,000 goal. All told, Jarvo raised £360,000, or 82% over its funding goal.
Daniel Hillman, founder of Jarvo said: "The traditional office space is dead, and while co-working spaces have opened up a world of collaboration, they also bring a host of challenges with them. They're rigid, expensive and require lengthy commutes which people are just not prepared to do anymore.
"The future of work needs is one which is decentralised, diverse and truly sustainable – something which consumers are also championing."
Founded in 2021, Jarvo stated that it has over 13,500 users on its waiting list, along with 1,000 homeowners.
Andrew Stanton is the founder and CEO of Proptech-PR, a consultancy for Founders of Proptechs looking to grow and exit, using his influence from decades of industry experience. Separately he is a consultant to some of the biggest names in global real estate, advising on sales and acquisitions, market positioning, and operations. He is also the founder and editor of Proptech-X Proptech & Property News, where his insights, connections and detailed analysis and commentary on proptech and real estate are second to none.