The Market Corrects: Prices Cool as Supply Increases
The UK property market continues to show significant momentum, according to Home.co.uk's Asking Price Index for September.
Frothy valuations are being dialled back as the post-lockdown buying frenzy fades away. Stock levels are recovering in all regions except London, where renewed demand is gobbling up properties faster than agents can put them on the market.
Higher nominal mortgage rates appear not to be deterring buyers and this is understandable when, owing to inflation, real mortgage lending rates are highly negative. Of course, real home price growth is also negative by a growing margin.
The property drought is over, and a greater sense of normalcy prevails. However, property continues to move through the market at an exceptional pace. The average time on the market for unsold property is now at the lowest it has been since the financial crisis of 2008 (144 days in England and Wales).
­­­Moreover, the turnover rate for properties passing through the market has recovered vastly from the low set in January when stock levels hit a record low. This measure of the number of properties passing through the market per day, which may be regarded as the 'pulse of the market,' has nearly doubled since the January low of 1163 properties per day to the current rate of 2075. This latest measure is broadly approaching the longer-term average for the UK property market.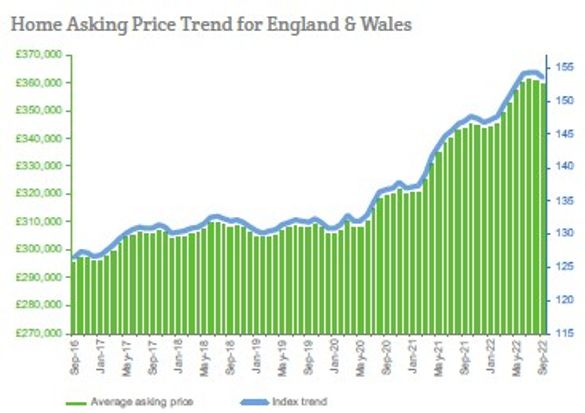 Headlines
Asking prices across England and Wales have dipped slightly since August (by 0.4%), bringing the year-on-year rise to 4.6%, consistent with both seasonal expectations and typical price adjustments in the wake of a rapid surge.
Good news for buyers as the total stock of property for sale in England and Wales ticked up again, albeit more strongly this month. However, it will take perhaps a year before total stock reaches what might be considered normal.
No slowdown is evident as the Typical Time on Market (median) for unsold property remains unchanged at 65 days, 17 days less than in September 2021, indicating that properties continue to move through the market at a near-record pace.
Supply of new instructions continues the upward trend, albeit from a very low base. Record-high prices are, as expected, encouraging more vendors to enter the market. 17% more properties were placed on the market last month compared to August 2021.
The North West and Welsh property markets now lead in annualised regional price growth (both +7.9%), ahead of the previous leader, the South West (+7.6%).
Meanwhile, monetary inflation increased further to 14.4% (RPI ex. housing), making current real growth around -10% year-on-year and, perhaps more importantly, the real mortgage interest rate around -11%.
Spectacular hikes in Greater London rents continue. Demand is completely overwhelming supply of available properties, driving annualised rental growth to a shocking 29.2%.
Central London rents have risen by far the fastest over the last twelve months and continue to do so, led by Hackney (+48%), Lambeth (+44%) and Islington (+43%) boroughs.
Asking rent growth across the UK currently stands at an astonishing 21.8% year-on-year as rents rise in every English region, Scotland and Wales.
For more information visit here.
---
---
Quintain Living Takes the Lead With Pooprints to Promote Responsible Renting With Pets
Quintain Living – the award-winning management company overseeing the rental of more than 3,250 pet-friendly apartments in Wembley Park – has taken the lead in the UK, being the first such operator to work with PooPrints as part of its commitment to responsible renting with pets.
When dog owners move into a Quintain Living home, they give their pets a quick mouth swab, supported by the friendly Resident Team, and the sample is sent to PooPrints to be added to the DNA World Pet Registry. After that, any dog poop issues can quickly be matched to the responsible party and a fine issued in line with the pet licence.
Danielle Bayless, Chief Operating Officer, Quintain Living: "The PooPrints scheme is an excellent deterrent. With it in place, we've had very few problems with resident dog fouling in any of our buildings at Wembley Park. It has the support of our residents and has proven very effective in ensuring that our community remains a clean, family-friendly environment where both pet owners and non-pet owners can love to rent."
For owners, having their dog listed on the DNA World Pet Registry also carries some comforting benefits. It means that lost or stolen dogs can be identified through their DNA and reunited with their families. This is a superior solution to microchips, which can be forcibly removed from stolen pets. Owners can also see detailed pet health analysis and insights, available for an additional charge via PooPrints, through the dog owner dashboard.
Quintain Living partnered with the innovative PooPrints solution when launching its original pet-friendly building back in 2018. More than 200 dogs now call Quintain Living home (along with their owners), with all buildings now pet-friendly. Each building has its own style and feel, meaning that a range of different pet-friendly features are available. In Ferrum, for example, the gardens include a spacious dog run, along with a Laundro-Mutt for washing / drying pet clothing and a dog bath and dog dryer to tackle any mucky pups. At Canada Gardens, there is a dedicated 'bark park' and a stunning, pirate ship-themed children's playground, meaning that all family members can enjoy spending time outdoors at once.
The wider Wembley Park neighbourhood, already home to the dog-friendly London Designer Outlet (complete with water bowls and treats on hand at Guest Services), has also been chosen as the home of the first bricks and mortar branch of the Cuddle Club. An established service that provides 'dog therapy' sessions for office staff across London and the South East, the Cuddle Club will provide grooming and spa treatments for furry visitors in Wembley Park, along with dog day-care, walking services and a range of items for purchase, including pet toys, treats and accessories. Residents and their pets can also enjoy the large dog run within Elvin Gardens and a new secure dog run where furry friends can play safely off the lead, will soon open in Union Park South.
---
Proptech and Property News in association with Estate Agent Networking.
Andrew Stanton is the founder and CEO of Proptech-PR, a consultancy for Founders of Proptechs looking to grow and exit, using his influence from decades of industry experience. Separately he is a consultant to some of the biggest names in global real estate, advising on sales and acquisitions, market positioning, and operations. He is also the founder and editor of Proptech-X Proptech & Property News, where his insights, connections and detailed analysis and commentary on proptech and real estate are second to none.