PRESS RELEASE: Breaking through the barrier with effective email marketing
In today's digital world, email marketing for estate agents is an effective strategy for reaching a targeted audience as ever. However, it is important to ensure that email communication is optimised to ensure that it has the highest possible chance of breaking through the noise and producing the desired results.
Ben Sellers, Co-Founder and CEO of Starberry, part of the nurtur.group, says that whether it is to present properties, engage in re-marketing, or simply offer great content, email marketing is still one of the most effective communication strategies within the property industry. "That said, agents need to be reviewing the data and implementing methods that will help them to improve both their open rate and click-through rate to increase the impact of their email campaign," he adds.
"Based on data gathered from many popular email marketing platforms analysing over 100-billion emails, in 2021 the property industry experienced an open rate of 21.7%. With the property industry experiencing a surge in 2021, the category of 'Real Estate, Design & Construction' had a click-to-open rate of 17.2%, making it the highest when compared to other industries. To understand how your agency is performing, it's imperative to treat both figures as competitive benchmarks. They reveal how an estate agency operates within the email marketing landscape, and where you may need future improvement," says Sellers.
He notes that during 2021, Apple released 'Mail Privacy Protection' (MPP), a privacy feature. Essentially users can agree to this feature, which then pre-fetches an email and its images including tracking pixels. This marks an email as opened, which impacts open rates.
"What this means is that open rates become 'inflated', as users utilising the MPP feature will have devices that are pre-downloading images. Email service providers take image download into their email rate calculations, and this will paint the picture to your agency that your emails are being opened more than they actually are," Sellers explains. "Automations can be subsequently affected, as if you had follow-up automations triggered by email opens, this is now a misguided step as the user may not have actually done this themselves."
He continues saying that segmentation alongside geographical tracking also experiences MPP effects. With misconstrued open rates, creating an engaged segmented audience becomes a lot tougher. Moreover, MPP masks IP addresses, making it harder to perform localised emailing.
Sellers says that while MPP creates certain obstacles, there are ways in which these can be overcome:
Redefine subscriber engagement: Shift from open rates to a focus on click-through rates and delivery rate, which are both clear indicators of engagement and the email hitting the inbox.
Survey and CTA Heavy Campaigns: Upgrade your campaigns to host surveys and CTA's that encourage engagement as opposed to simple scrolling.
Analytic Tools: Utilise available analytic tools that identify more credible information, such as where users are specifically coming from and the actions they take on your agency's website.
Audit Your Audience: With MPP being active, it is crucial you go over already segmented audiences which may have been affected by unreliable figures.
Just Ask: Never forget you can always just explicitly ask for first person data. For example, adding a location field on sign-up forms.
"For agents to improve on the benchmark figures, it is crucial for open rates to be consistently studied, subject lines need to be A/B tested and pre-header texts optimised for preview, especially on mobile. Alongside the testing of different writing styles, delivery times and relevant content through segmentation, it is clear a right mix is necessary," adds Sellers. "Moreover click-through rates can be increased by stronger segments, improved CTA's and accurate subject lines. After optimising emails as much as possible, the automation is what allows for scaling."
"At Starberry we take pride in supporting estate agents towards their email marketing goals. We believe with a digital push in the right direction, estate agents can surpass the benchmark figures. Our full range of email marketing services, from design, to copywriting, distribution and list management, all work in tandem to test and produce that perfect email. We can then help estate agent's with perfectly crafted email automation, offering targeted communication that nurtures leads over time. It's clear that attentive management to email communication is key in optimising for improved metrics," Sellers concludes.
---
PRESS RELEASE: Blockchain Home Registry Launches to Usher in the Web3 Future of Homeownership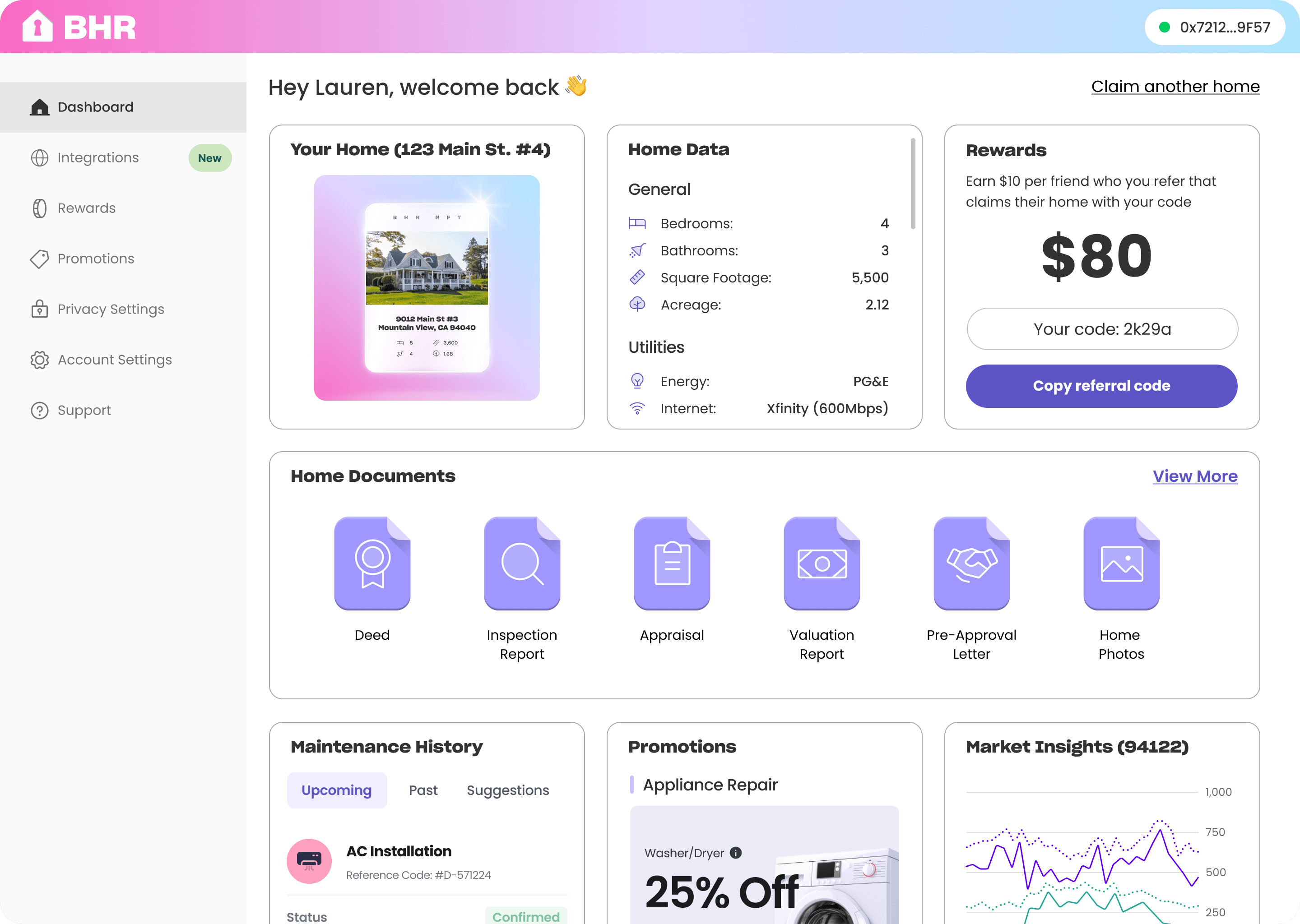 VC-backed Torii Homes launches Blockchain Home Registry, a collaborative Web3 standard and platform for homeowners and the entire real estate industry.
Blockchain Home Registry (BHR) launched today to usher in a new era of collaborative innovation in the real estate industry powered by Web3 technology. BHR is a decentralized finance (DeFi) standard and platform that allows homeowners to claim a verified non-fungible token (NFT) of their property, giving them privacy-controlled access to a permanent, transferrable historical record of their home. New data (ownership history, maintenance/renovation records, solar potential, etc.) is added to every property on BHR by integrating organizations across the real estate ecosystem, allowing homeowners to learn more about their home over time. Both homeowners and organizations can monetize the data they each add on their own terms.
BHR is spearheaded by the team at Torii, the fast-growing venture-backed real estate technology company. "We're thrilled to bring Web3 technology to the entire real estate industry, providing a collaborative standard for all stakeholders, while keeping homeowners at the center of it all. They own their homes, so they should own their data, as well," said James Rogers, CEO of Torii.
The more data that is added to the BHR network, the more homeowners will learn about their most significant asset. This will lead more owners to claim, thereby encouraging even more integrations to be built. "The real estate industry has always been highly fragmented and overly protectionist. It's time for that to change, and BHR creates a really powerful flywheel effect to achieve that where everybody involved wins," noted Rogers.
Integrations will range from title companies sharing rich historical data with homeowners, to insurance providers streamlining their underwriting process, to lenders building toward a one-click approval process. "The possibilities for innovations on top of BHR are truly endless. Each day we hear about new ideas from organizations that want to be a part of the system, and to help the industry modernize," added Rogers. "We look forward to collaborating with all of the incredible companies and teams out there trying to make it easier to buy, sell, and own homes." BHR is available now for all homes in the US, and eventually will be rolled out globally.
Andrew Stanton is the founder and CEO of Proptech-PR, a consultancy for Founders of Proptechs looking to grow and exit, using his influence from decades of industry experience. Separately he is a consultant to some of the biggest names in global real estate, advising on sales and acquisitions, market positioning, and operations. He is also the founder and editor of Proptech-X Proptech & Property News, where his insights, connections and detailed analysis and commentary on proptech and real estate are second to none.