ChatGPT and Bricks&Logic – the Future of the Property Market
ChatGPT and Bricks&Mortar – the Future of the Property Market
Bricks&Logic has harnessed the power of GPT to enhance property analytics and assist Estate Agents. How else might the property market change with AI advances?
Michael Joyner Chief Data Scientist, explains how ChatGPT is being harnessed to help property practitioners.
'Since its public launch at the end of 2022, ChatGPT has made headlines due to its potential impact on various industries and its implications for the future. At Bricks&Logic, we are dedicated to advancing property analytics and have leveraged the power of GPT to assist our Clients with their data analysis. In this article, we will discuss how we use this technology and how we believe innovations like ChatGPT will influence the property market in the future.
Incorporating Estate Agent Data into the Bricks&Logic Platform
As a part of our service to Estate Agents, we ingest and process their listing data to help them effectively communicate their market position and insights to their clients. We achieve this through features such as:
Displaying areas where agents have been particularly active on our industry-leading heat map.
Allowing agents to select comparable sales and rentals they have marketed.
Showcasing properties they have sold or let to Bricks&Logic public users.
Seamlessly integrating their data into digital reports.
Examples of Estate Agent data being incorporated into the Bricks&Logic Platform
Processing our Clients' data with GPT
When it comes to analysis, well-structured data is crucial. However, extracting structured data from large amounts of free-form text can be challenging. GPT has revolutionised this process and allowed us to gain significantly more value for our Clients from their data.
The screenshot below displays the Bricks&Logic Listings Manager, where we process and verify our clients' listings. We strive to extract as much useful information as possible from the data provided. For example, we have interpreted the condition of the property to be "Excellent" and classified the outside space as a "balcony." The classification process is essential, as it allows for a better understanding of the property's attributes and enables more accurate comparisons with other listings or sales. This is vital in determining the property's value based on its features and how they compare to other properties.
Brics&Logic Listing Manager with GPT
Examples of analysis with ChatGPT
One of our primary objectives for clients is to establish a clear understanding of a property's condition and its impact on value. Prior to GPT, we employed a variety of Natural Language Processing (NLP) techniques to achieve this goal. However, GPT has revolutionised this domain. For instance, we can now generate consistent scores using interpretations from GPT. To illustrate this, I will present examples using ChatGPT screenshots.
As experienced analysts understand, integrating domain knowledge into a problem is typically more effective than merely examining the data in isolation. It is widely acknowledged that Agents strive to serve their clients well, which often results in a slight positive bias when describing properties. By informing ChatGPT of this bias, we can prompt it to adjust its evaluation accordingly
ChatGPT analysing Estate Agent Text
Improving our understanding of the market
The example above is just one illustration of how we integrate GPT into our analysis to enhance our understanding of the property market for the benefit of our clients and the public. The Bricks&Logic House Price Index incorporates information supplied by our partner agents, and by gaining a deeper understanding of this data, we can improve the accuracy of our indices. Through continuous testing of our industry-leading Automated Valuation Model (AVM), we have observed improvements since integrating GPT into our algorithms.
What next for AI in the property market
Large Language Models like GPT are undoubtedly impacting various industries, and it is worth considering how these advancements might shape the property market's future use of such technology. OpenAI recently announced the launch of GPT-4, which offers the added capability of processing and analysing images. We believe the next significant innovation the industry should explore involves enabling property searches by images, with listings provided based on matching themes. For instance:
While exploring a neighbourhood, if you find a property aesthetically appealing from the outside, you could take a photo and request listings in the area that resemble this property.
Another example might involve searching for houses with specific decor styles or room sizes/layouts.
Users could also search for properties with similar garden types or landscaping features by uploading images of their desired outdoor spaces, making it easier to find homes that meet their preferences for outdoor living and aesthetics.
This is just one example of how the property market could leverage AI's power to enrich the user experience. Numerous other possibilities are likely to emerge, many of which have not yet been conceived!
Conclusion
In conclusion, Bricks&Logic's integration of GPT has significantly enhanced the data analysis capabilities, providing our clients and users with a more comprehensive understanding of the property market. As AI continues to evolve, we are excited about the potential for further innovations, such as GPT-4's image processing capabilities, to enable more intuitive and personalised property search experiences.
By staying at the forefront of AI-driven advancements, we aim to redefine the property market and empower our clients with unparalleled insights and user experiences. As technology progresses, we anticipate a wealth of new possibilities to emerge, ultimately revolutionising the way people navigate and interact with the world of property.
If you would like to find out more about how Bricks&Logic could help your business, by talking to Michael please click on this link.
---
---
Ascendix – What Is Proptech and How it Changed the Real Estate Industry
In my day job for the last seven-years I have working 1:1 with founders of Property technology companies, both in the UK and globally a transition from being an estate agent for over thirty years. In a nutshell, Proptech is just digital tools to do the day job in property in a modern, efficent way. What is key is that the digital transformation of real estate knows no borders, with London being second only to New York as the capital of excellence for this technology.
CEO and co-founder of Ascendix Wesley D Snow an American based company with a global reach, has kindly set out his take on what Proptech is, in an easy to understand deep dive, which will help unravel this complex landscape.
Wesley D Snow, 'Proptech is the latest buzzword on everybody's lips today. Often called the new disruption power and innovation driver, it is also said to be the modern remedy for real estate specialists suffering from piles of paperwork and a high-yield asset class for investors looking for fresh opportunities.
In this proptech research, we provide a comprehensive proptech definition, property technology types, and a proptech market map in an attempt to dispel any confusion about the emerging technology in real estate, its present and future.
We also look at proptech big data and reflect on how technology has changed the real estate industry, what real estate technology trends are there, and what real estate tech startups are at the forefront of real estate innovation.
What Is Proptech?
Proptech, or property technology, is all the tech tools Real Estate experts use to optimize the way people buy, sell, research, market, and manage a property. These innovative technologies are also known as Real Estate Tech, Retech, Realtech, CRE Tech depending on which lens you're looking through. However, at its core, prop tech always means robust alignment between real estate and technology.
Examples of disruptive technology in real estate can be investment platforms for matching retail investors and real estate assets or property management platforms for running residential, office and retail properties (we talk about it a bit more in the next section).
If property technology seems somewhat distant from the individual consumer, think of your last vacation spent in a lovely Airbnb apartment or a boutique hotel, which you had picked among numerous other gorgeous locations generously listed on the platform – and at a much lower price than you would have spent on a hotel in the same area. If you can relate, you have firsthand seen how technology has changed the real estate industry.
By far, Airbnb is one of the first proptech tech companies disrupting the real estate industry, along with Zoopla, Causeway, and Purplebricks – they all once took the plunge and married century-old technology and real estate, pretty much in the same way Uber has transformed the transportation business.
Proptech Landscape: What Technology Types Are There and Where Are They Applied
Did you know that over the last decade, more than 13,000 proptech companies have popped up across the globe? Yes, 13,000. And most of these startups, for the sake of marketing or due to the lack of panoramic view of the industry, "self-categorize," making it absolutely unclear which category they're in.
Numerous real estate and technology thought leaders made attempts to classify the new-born property technology, but due to different proptech definitions as well as the types of real estate markets, the exact parameters of proptech space may vary.
Having been in the real estate industry for almost two decades, Ascendix has witnessed the evolution of property technology and is well positioned to provide our outlook on proptech ecosystem.
So here it is – our analysis of the three most popular approaches to categorizing proptech ecosystem, as well as our conclusion on which classification best reflects the modern proptech landscape.
1. Prop tech as the intersection of Fintech, Contech, Smart Real Estate, and Shared Economy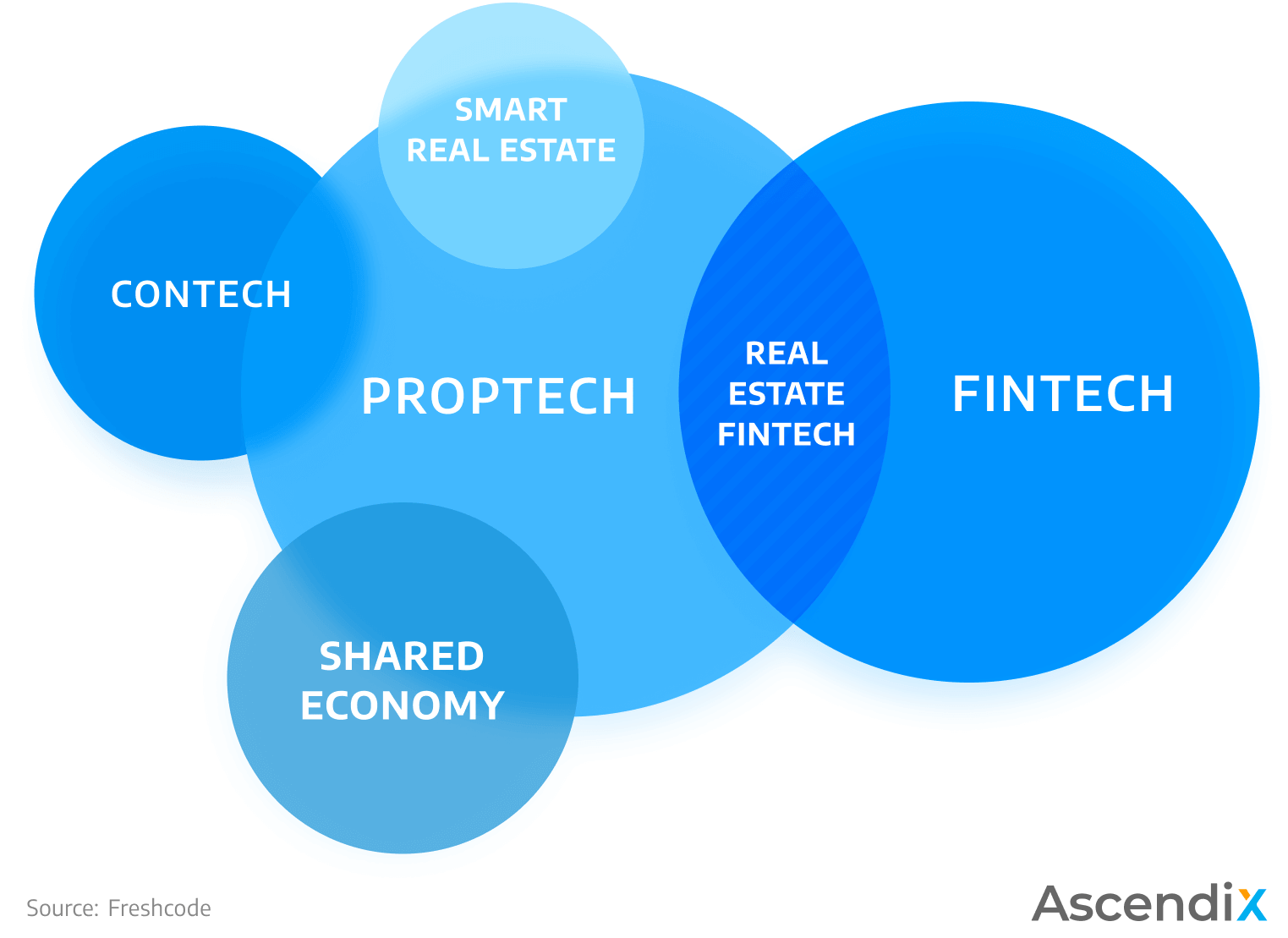 Proptech Definition | Ascendix Tech
Shared Economy Real Estate – any proptech platform that offers shared and/or joint use of a property. AirBnB and WeWork are the most famous Proptech companies driving the shared economy.
Smart Real Estate (aka Smart Home) – purely prop tech subsector denoting the use of internet-connected devices and appliances, which are collectively known as the Internet of Things (IoT), to enable the remote monitoring and management of the house. Some of the obvious examples of solutions in this proptech subsector include smart kitchen appliances developed by Siemens or intelligent lighting systems produced by Philips.
Fintech (financial technology) – the elder brother of proptech that brings technology into the financial sector to make customers and businesses access financial services with ease. The two industries meet at Real Estate Fintech focused on facilitating financial processes in Real Estate.
Contech (construction technology) – the use of modern materials and sustainable approaches in the building process.
This is a traditional and very general way to classify the proptech landscape that outlines its basic elements and relationships. It is especially helpful for those just trying to comprehend what proptech actually is and how it correlates with other industries.
2. Two Domains of the Proptech Space: Residential and Commercial Property Tech
Let's take one step further and split the whole proptech space into two domains according to the end-user – individual residents and businesses.
Residential Property Tech
Residential Property Tech is all the digital products developed by real estate tech companies to facilitate the way people own or rent apartments and houses, e.g., short-term rental platforms, like AirBnB or Lyric).
The landscape of Residential Property Tech is defined by:
Property Search Platforms (listing and marketplaces, real estate agent tools, etc.)
Property Sale Tools
Financing Tools (digital lenders & brokers, alternative financing, etc.)
Mortgage Lender Software (loan application and management)
Real Estate Closing Tools (insurance, transaction management tools)
Property Management Tools (IoT-powered tools)
Loan Management Systems (loan securitization, etc.).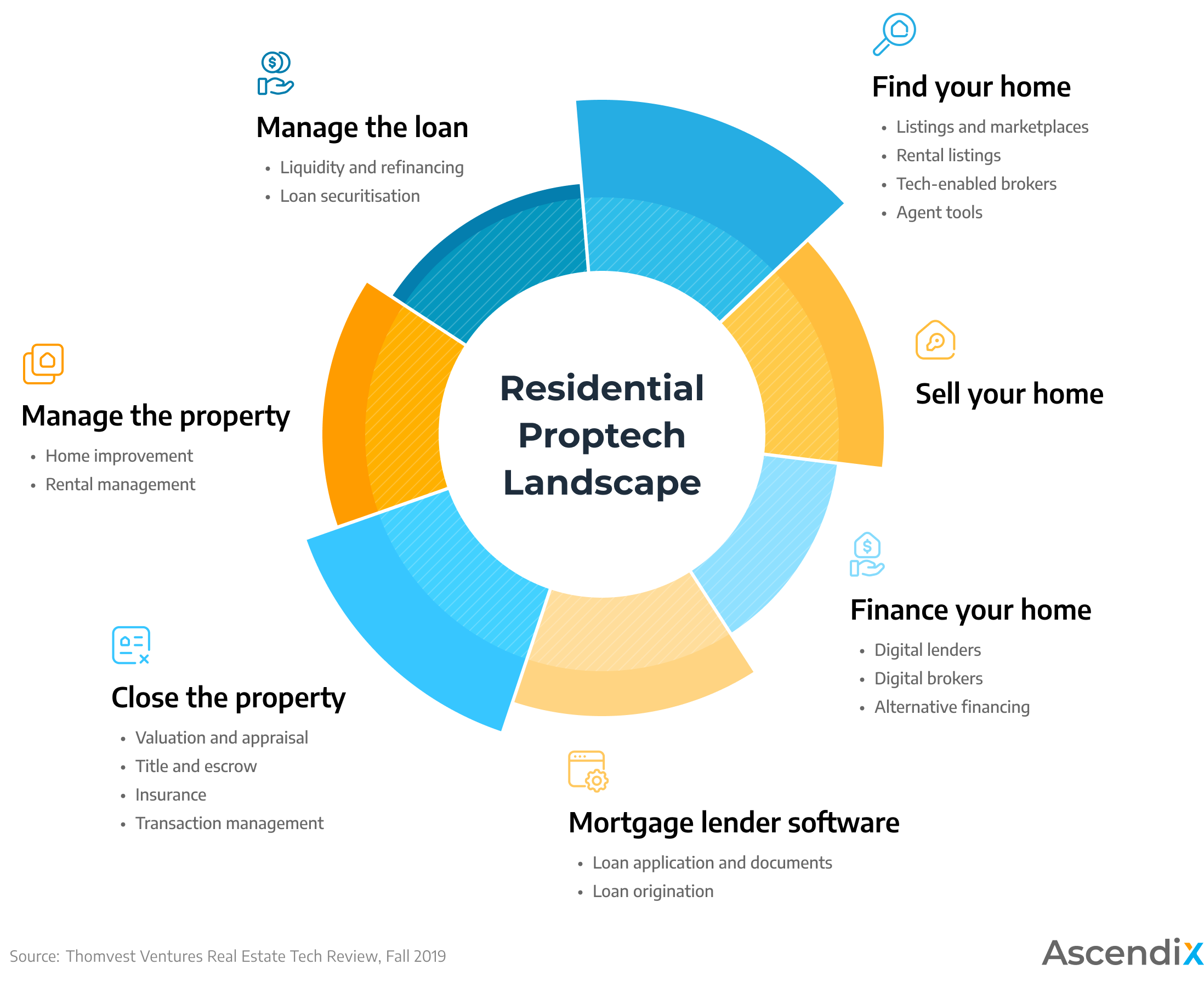 Residential Proptech Real Estate Landscape
CRE Proptech stands for Commercial Real Estate technology and means the use of all the innovative tools companies and individual CRE professionals use to efficiently run, search, rent, and sell office, industrial, and retail property assets. The brightest illustrations of this realm of Proptech real estate in action are marketplaces for brokers like LoopNet and Biprox.
The CRETech space is shaped by:
Property Search Platforms (listing and marketplaces, Brokerage CRM, etc.)
Constructions Planning and Management Tools
Evaluation and Financing Tools (transaction underwriting & management, debt financing platforms, etc.)
Property Management Tools (IoT-powered tools)
Asset Utilization (co-working & co-living spaces management, retail and industrial buildings management, etc.)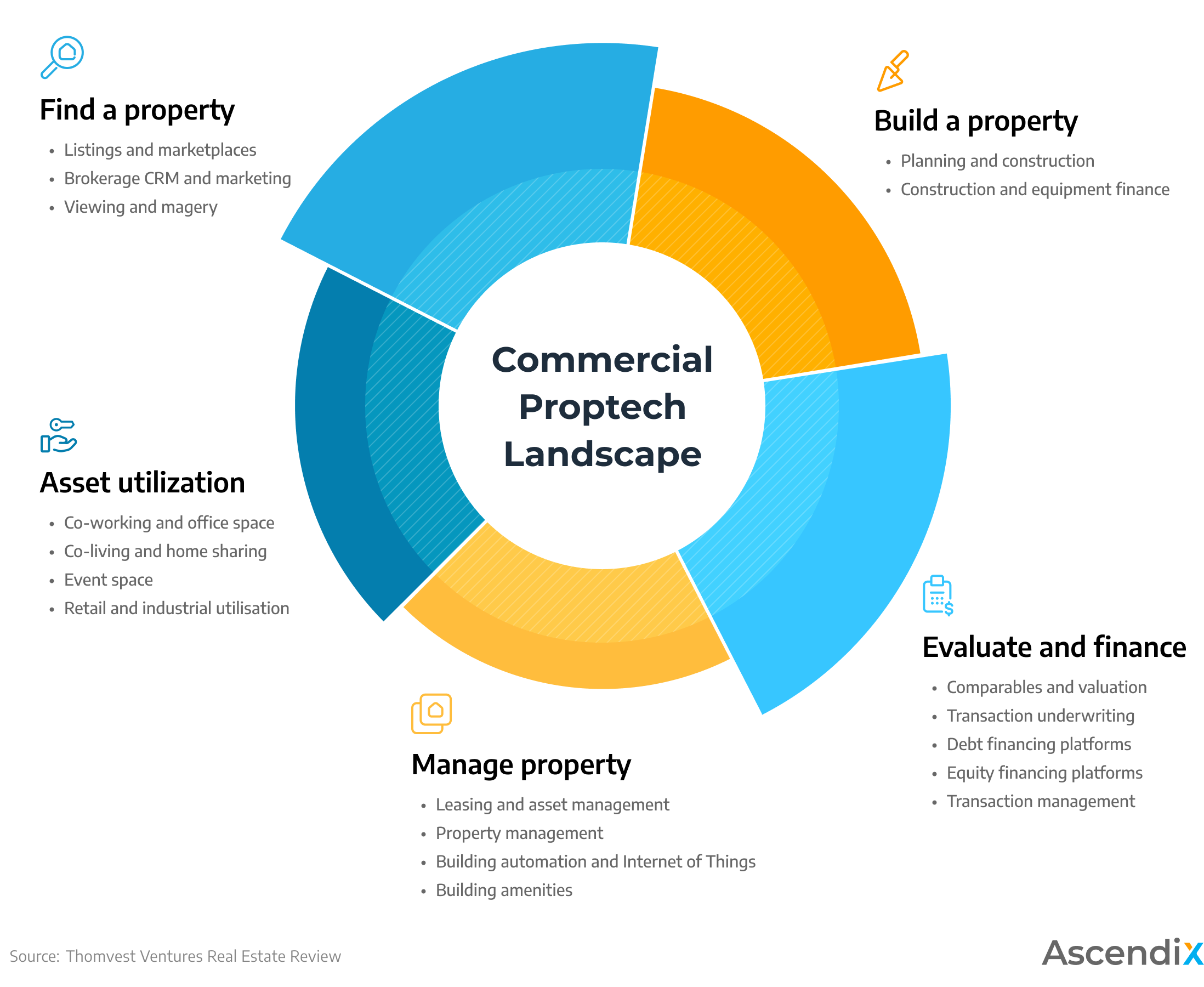 Commercial Proptech Real Estate Landscape
So, whereas Residential Proptech is solely focused on smart property solutions for families and individuals, CRETech is all about driving efficiency in commercial property management.
3. Proptech Market Map
The newest classification and, by far, the fullest one, as it captures the reality of today's proptech space and basically sums up the previous two schemes. First developed by PitchBook, this proptech market map consists of five distinct segments: asset utilization; finance and investments; construction, maintenance and renovation; property management; and transaction solutions.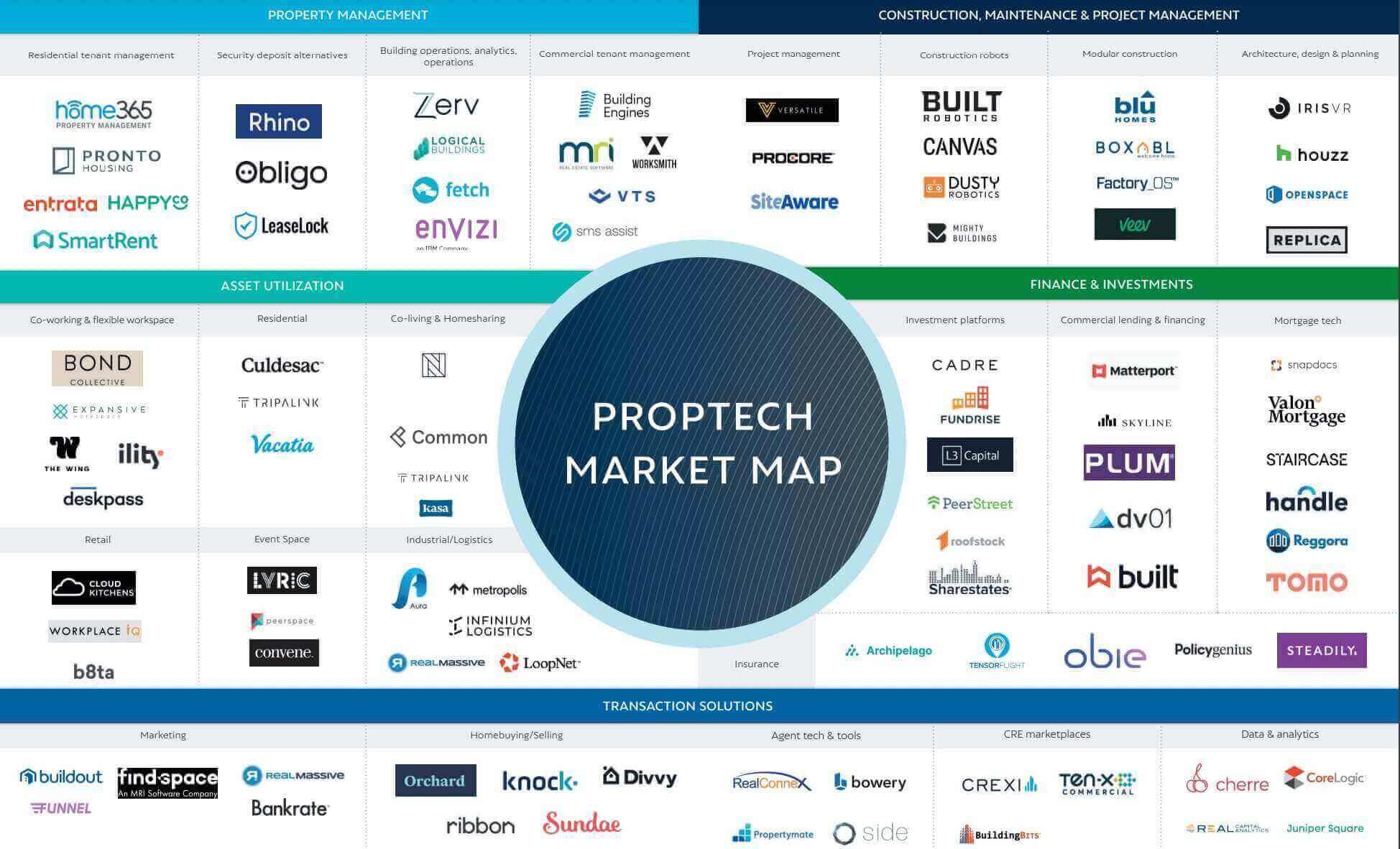 Proptech Market Map
So How has this Technology Changed the Real Estate Industry
Proptech evolution has brought innovation into the daily routine of almost every player on the Real Estate market, including landlords, tenants, investors, brokers, letting agents, etc.
For a property professional, the adoption of Proptech solutions means:
Easier data collection & AI-driven marketing to screen and evaluate the development, investment, leasing, buying, and selling processes. Pair this up with the ever-expanding potential of Proptech Big Data Analytics for structuring and documenting large data sets, and you'll find yourself fully equipped for conquering more deals.
Automation of paperwork & cost reduction to streamline your brokerage back-office processes and save much time & resources on more important tasks, like market research, communicating with customers, and closing deals.
Secure remote transactions & digital contracting for a faster and easier buying experience. No more tons of paper to read and sign at closing!
Direct digital engagement & reduced physical contact to limit physical interactions with both high-use surfaces and people alike. Since the onset of Covid-19, Proptech contactless solutions like facial & touch recognition have become the new normal in the digital world.
Property technologies have also changed the way landlords and tenants interact. Here is what Proptech has brought for both parties:
Detailed 24/7 insights into how tenants utilize the space, enabled by networks of smart devices and sensors (IoT). Property owners don't need to go and check their properties personally, as all the data about building security and maintenance are available on the go from a mobile screen.
Quality communication with tenants, repair workers, maintenance teams, and any other parties involved. With information caching and data storage, no detail from previous conversations will fall through the cracks!
No geographical boundaries with Virtual Reality. Home inspections, house tours, and viewings transition to the virtual world, meaning that property owners and tenants can do all this from the comfort of their homes.
Here is what has positively changed for Real Estate investors:
Accurate planning of construction to reduce if not eliminate the chance of critical mistakes or failure to meet a deadline, which may result in millions lost.
Improved market research to track the development, investment, leasing, buying, and selling opportunities.
Secure contracts with no "middle man" that might have misaligned interests in the property purchase and sale process.
If you would like to talk to Wesley or his team and find out more just click on this link. Not only do they provide great advice they can build or supply numerous solutions to streamline operations and help property businesses get digitally modernised.
---
Proptech and Property News in association with Estate Agent Networking.
Andrew Stanton is the founder and CEO of Proptech-PR, a consultancy for Founders of Proptechs looking to grow and exit, using his influence from decades of industry experience. Separately he is a consultant to some of the biggest names in global real estate, advising on sales and acquisitions, market positioning, and operations. He is also the founder and editor of Proptech-X Proptech & Property News, where his insights, connections and detailed analysis and commentary on proptech and real estate are second to none.