Finbri: 1 in 3 Renters Have Experienced Issues With Damp or Mould
PRESS RELEASE: A survey conducted by Finbri revealed that over a third of tenants across the UK have experienced issues with damp or mould in their rental properties.
Damp and mould can pose a serious health risk. Those with damp and mould in their homes are more likely to suffer from respiratory problems, infections, allergies, and asthma. Damp and mould are more likely to affect babies and children and older people and severe cases can even cause death. A new survey of 1,001 UK renters by Finbri, discovered that 33.73% had experienced issues with damp or mould in their rental properties.
As Stephen Clark, from bridging finance broker Finbri, comments, "Damp and mould in rental properties are clearly a concern for tenants from a risk to health perspective, but it's also a significant concern for landlords too. Aside from a moral obligation to remedy such issues, a rental property with mould or damp problems will be detrimental to their properties revenue potential and long-term, it risks their asset."
The UK Renters Report 2023 discovered that in addition to the 1 in 3 tenants that have experienced problems with damp or mould, 22% of renters have had excessive delays on maintenance work being completed by a landlord or a letting agent with 21.48% experiencing unresolved maintenance issues.
With 12.89% of UK tenants feeling unable to complain about poor property conditions for fear of eviction and 12.69% afraid complaints could lead to rent increases, it's not just physical health risks damp and mould a third of renters are experiencing, there is the worry that comes from telling a landlord or letting agent about the problem.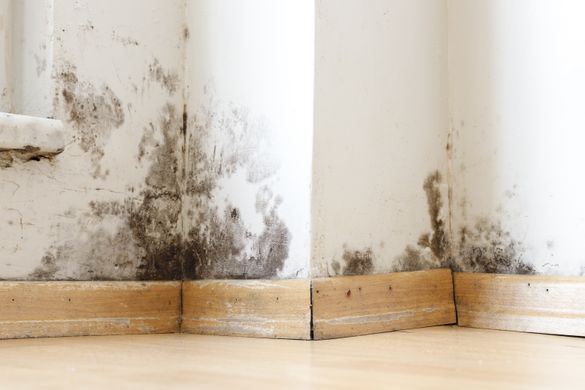 Are landlords responsible for sorting issues associated with mould?
A landlord's responsibility for mould and damp depends on several factors, such as whether it's caused by condensation or penetrating damp. If the mould is due to something that can be attributed to a landlord – for example, failing to repair a leaking roof, inadequate ventilation or poor insulation – then they will be liable for sorting it out.
In other circumstances, if the mould is caused by something not related to the landlord – such as a tenant's lifestyle choices or lack of ventilation use (more information can be found at Citizens Advice).
To reduce damp and mould issues in rental properties, landlords should consider taking preventative steps such as ensuring the property has adequate ventilation, implementing regular maintenance checks and providing tenants with information about how to take care of their rental home.
Renters growing frustration
Landlords should be aware that Finbri's survey also discovered that renters are experiencing further issues related to their rental property:
Problems with damp or mould (33.37%)
Poor property conditions (24.98%)
Excessive delays in maintenance repair work being completed (22.08%)
Unresolved maintenance issues that were reported (21.48%)
Unaffordable increases in rent (19.38%)
Being ignored by a landlord or letting agent (18.78%)
Excessive delays in communication responses from landlord (15.68%)
Security deposits not being returned in full (13.79%)
Unable to complain about poor conditions for fear it might lead to eviction (12.89%)
Unable to complain about poor conditions for fear it might lead to rent increases (12.69%)
Threat of eviction (11.59%)
Security deposits not being returned in part (10.89%)
Difficulty with tenancy renewal (10.69%)
Harassment from the landlord or letting agent (8.39%)
Despite multiple issues faced by renters, the number one concern is the issues experienced by damp or mould.
Final thoughts
It's clear from Finbri's survey results that there is a great deal of concern among renters in the UK, with a third of renters facing issues with damp or mould in their rental properties, poor conditions or excessive delays in repair work, and further fears over the risk of eviction. As a landlord, it's important to take proactive measures to prevent damp and mould issues from occurring, such as ensuring the property is well-ventilated and implementing regular maintenance checks. Additionally, it's important to ensure that tenants feel comfortable raising any concerns they may have and to treat all maintenance requests fairly and promptly.
---
---
83% of Renters Want to Own, but 75% Know They Won't Be Able to in 2023
PRESS RELEASE: The cost of living crisis, the mortgage market downturn at the end of 2022 and several other contributing factors have left the majority of renters unable to purchase property despite their aspiration to do so. 
A recent survey of 1,001 renters by Finbri, shows that 83% of renters want to purchase property but over 75% believe that they won't be able to do so in 2023. Unsurprisingly given the current economic situation in the UK, the key reason renters can't get on the property ladder is the inability to save for a deposit. But the UK Renters' Report 2023 also discovered 32.37% of renters say mortgage rates are too high, 22.76% are unable to obtain a mortgage, with just 14.74% that prefer to rent.
As Stephen Clark, from bridging loan broker Finbri, says, "The UK economy and mortgage market volatility are driving up demand for rental properties. Due to the prolonged uncertainty in the market and its overall weaker position, first-time buyers are postponing entry into the market. Sales are likely to decline, but the rental market will keep expanding since lenders are having difficulty issuing mortgages and sellers are bailing out due to delays.
"Whilst over 50% of renters that want to buy have said they won't be able to save enough for a deposit, there are other factors that are giving renters cause for concern. Energy costs, rent increases, and concerns over the UK economic outlook are all contributing factors impacting renters."
What is preventing renters from purchasing property?
Renters are struggling. Demand for rental property is outstripping supply, and rental costs are increasing. There is an ongoing cost-of-living crisis combined with rising energy prices and a precarious economy – renters know they are less likely to own a property – certainly not in the next 12 months. Finbri's UK Renters' Report found the most common reasons:
Unable to save enough for a deposit (53.82%)
The tumultuous nature of the property market has caused unrelenting pressure on tenants, with over 53.82% of tenants stating that they are unable to save enough for a deposit. The general consensus is that the deposit is around 15-20% of the property's value and typically takes between 2 and 15 years to save – with the majority of renters being unable to save this amount due to increased costs.
Mortgage interest rates are too high (32.37%)
Nearly 1 in 3 UK renters believe that the current mortgage interest rates have become too high, making it difficult for them to purchase a property. This can be attributed in part to the Bank of England's decision to raise the base rate for the tenth consecutive month.
Following the base rate increase from 3.5% to 4% this February, Nationwide have subsequently increased their mortgage rates:
Standard Mortgage Rate (SMR) will increase from 6.49% to 6.99%
Base Mortgage Rate (BMR) will increase from 5% to 5.50%
With the UK base rate predicted to reach a peak of 4.5% in mid-2023, landlords were asked how they intend to react to the increasing rates, and their responses will cause concern for renters.
52.75% of landlords plan to raise rents further to cover the additional expenses resulting from the increasing rates, making it even harder to save for a deposit.
Unable to obtain a mortgage from a lender (22.76%)
In response to the cost of living problem, mortgage lenders are tightening their lending standards, which could make it more difficult for people to borrow as much money as they previously could. Renters have also faced difficulty obtaining a mortgage from a lender, due to a lack of available mortgage products or limited deposit. However, despite the immediate detrimental impact of the mini-budget last September when mortgage products were pulled overnight, mortgage products have risen recently, which may come as some relief for renters looking to get on the property ladder.
Unable to afford conveyancing fees (15.26%)
Conveyancing fees include all the payments required to ensure the legal side of a purchase, this includes legal fees and disbursements. The typical conveyancing fees range from £500 – £1150 plus disbursements. Further costs are incurred if the property is leasehold instead of freehold – renters are aware and concerned with the additional costs associated with purchasing property.
Waiting for interest rates to reduce (14.74%)
The uncertainty of the property market is causing many potential first-time buyers to wait for the interest rates to reduce before deciding to purchase – when interest rates drop, depending on the type of mortgage you have, the monthly cost can decrease and become more affordable.
The Bank of England's base rate is expected to increase to 4.5% by mid-2023, and whilst there are predictions the rates will then lower, it's unclear as to when the rates will reduce and make it easier for aspiring homeowners to purchase a property.
Further reasons renters said they won't be able to purchase a property within the next year include, the inability to afford Stamp Duty tax (11.84%), unable to find a suitable property (10.26%), waiting for government-backed schemes to become available (7.76%), concerned about falling into negative equity (6.97%), property price crash is imminent (10.66%), whilst 14.74% prefer renting.
---
Proptech and Property News in association with Estate Agent Networking.
Andrew Stanton is the founder and CEO of Proptech-PR, a consultancy for Founders of Proptechs looking to grow and exit, using his influence from decades of industry experience. Separately he is a consultant to some of the biggest names in global real estate, advising on sales and acquisitions, market positioning, and operations. He is also the founder and editor of Proptech-X Proptech & Property News, where his insights, connections and detailed analysis and commentary on proptech and real estate are second to none.